Now that a lot of businesses sell their goods and services online, ways and means have been innovated to make the lives of sellers and their customers much easier. And we are not just talking about big time businesses here. As we know, there are already thousands (and counting!) of active online sellers sprawling across social media networks most especially in Facebook and Multiply.
From lesser known pre-loved stuff (slightly used/vintage clothing and other re-usable items) sellers to famous multinational brands, they all share same goal now, and that is to capture their target market with their attractive social media presence.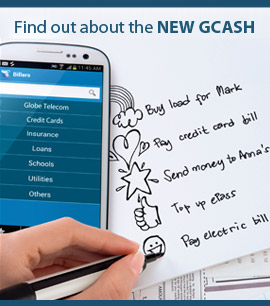 One way to maintain a steady online following is by being flexible enough to accept various modes of payment. These include bank deposits and many types of money transfers. But I noticed that all this time, Globe Telecom's Gcash, as a mode of transferring cash has become more popular to online sellers and clients. Transfers and even payment of utility bills can be done via a text message from your Globe number fast and easy. With Gcash, your phone becomes a virtual wallet which you can reload anytime at any Globe Business Center or Globe Gcash outlet in the country. It is also available internationally and known as 'Gcash Remit' where money can be sent to and from the Philippines. Senders can advise their loved ones to pick up cash from any location in the Philippines; and they also enjoy free text notification.
As an online seller myself, I have been using GCASH for years now, and I can say that it helps me close my transactions fast. Also, it gives me more freedom in managing my cash flow well.
Here are the basic fees for sending and receiving Globe GCash:
TRANSACTION                                             SERVICE FEES
CASH-IN TO SELF                       –                                 FREE
CASH-IN TO OTHERS                –         P20 for every P1000 and a fraction thereof
CASH-OUT                                     –         P20 for every P1000 and a fraction thereof
SEND MONEY (P2P)                 –          P10 for every P1000 and a fraction thereof
PAY BILLS                                   –                                   FREE
BUY LOAD                                   –                                   FREE
REGISTER                                    –                                   FREE
LAST TRANSACTION             –                                    FREE
BALANCE INQUIRY              –                                     FREE
To know how to get started with GCASH, check out the FAQs here.  ~louiseinthehouse