Audio Refinery Inc., a new player in the Audio and Lifestyle industry, announces the debut of its new retail concept in Metro Manila last April 23, 2016 and now officially launches the next concept store, A. Refinery Davao located at the 2nd Level of Abreeza Mall, one of Ayala Mall's premiere shopping centers in the city. The store features products under the slogan Lifestyle – Music – Technology. Serving as an experience hub for premium audio and lifestyle, A. Refinery Davao celebrated an official grand launching last Saturday, May 28, 2016.
"Perfect for movie buffs, Vinyl and turntable collectors, sports fanatics and any music listener, the A. Refinery creates a completely immersive movie and music experience, as well as other interesting products for almost any profile" said A. Refinery's sales team. "A. Refinery represents today's forward thinking of home entertainment, HiFi concepts, portable media all integrated into one retail shop. We are now able to offer a complete showcase for our products and services as well as a creative setting for our customers, bringing this central mission to life in a new way."
A unique lifestyle destination, A. Refinery provides customers the opportunity to discover music and movies in a different light, various modules Keeping in line with the company's mission which is See, Hear, Experience, A. Refinery will be the home of iconic brands such as longtime German headphone powerhouse Beyerdynamic, and two of Britain's leading audio innovators Chord Electronics Ltd. and Q Acoustics. The store will also be an ideal setting for non-audio brands such as Booq Cases, Lineaflux Hyperchargers, as well as one of the newest innovations of the 21st Century – Home Automation by Control 4.
During the celebration of the grand launching of the Davao branch, A. Refinery hosted programs throughout the whole day event. Such includes raffle in which a Harman Kardon Esquire speaker is the Grand Prize, and discounts up to 20% off on selected products .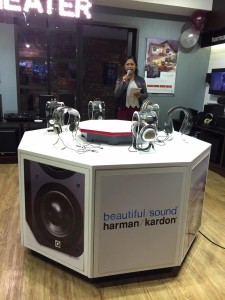 At present, A. Refinery has confirmed three store locations in the Philippines, A. Refinery UP Town Center Katipunan, Quezon City, A. Refinery Ayala Center Cebu and A. Refinery Abreeza Mall Davao.
Refinery Abreeza Davao will be open seven days a week from 10 a.m. to 9 p.m. daily. For additional information, please visit www.facebook.com/ARefineryPH