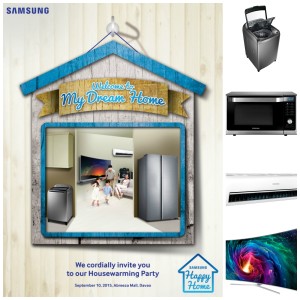 We all want to level up our lifestyles. Better jobs, house, gadgets and appliances, education.. anything. We always want a step higher than what we currently have. Samsung hears us well in this area as it continues to  create one's dream home. It comes from the basic idea that families want to be able to comfortably lounge around at home, enjoying life's simple pleasures such as watching TV, munching on comfort food, or listening to good music with family and friends.
These memorable moments will be made much better with Samsung Consumer Electronics, which makes their new home a luxurious haven for entertainment, fun, and relaxation.
This family experience was showcased during Samsung Happy Home roadshow in Davao featuring Samsung's range of new products, including Television, Home Entertainment Solutions, and Digital Appliances. I was one of the bloggers who were invited to said event which kicked off last September 10 at the Abreeza Mall.  Samsung will also bring it to other major cities like Cagayan de Oro, Bacolod, Cebu, Pampanga, Naga, and Iloilo in the coming weeks so more families will get to experience and have their home upgrade very soon.
The Samsung Happy Home roadshow aims to show how families can enjoy the many conveniences and the possibilities made possible by Samsung products—all designed to meet the needs of families at every life stage and celebrate with them in every success. Regardless of family size, age, interest, or location, there's always a Samsung product that is right for everyone, with every single unit designed to surpass expectations and delight users.
The Samsung Happy Home roadshow showcases a line-up of their latest products such as: the SUHD television,  Activdualwash washing machine, RT25 refrigerator, Smart Oven and AR7000 air conditioner.  These are specially designed to be the key 'helpers' in upgrading every Filipino's home – dream-come-true, smart, innovative, and happier home.
Creating one's dream home doesn't always mean major overhauls. It can be realized by adding perfect home pieces and products to build the dream home that will be filled with love, convenience, and entertainment.
Give the Samsung Philippines Facebook page some love (facebook.com/SamsungPH) or follow Samsung via Twitter (twitter.com/samsungph) for more information. More product details and images are available at http://www.samsung.com/ph.