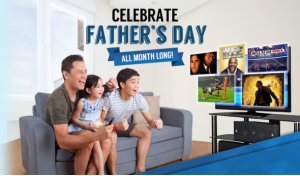 As we honor our Dads, Tatay, Papa on Father's Day this month of June,  SKY makes it easy for us surprise them with an entire month's access to a special selection of awesome and action-packed channels available via SKY's value added service, Select.
SKY Select gives you the power to choose more channels from a wide range of options to add to your basic SKYcable digital subscription plan – whether it's movies, sports, kiddie shows, learning, lifestyle, music, news, and even Asian programming.
For dads, you can choose a whole variety from sports, outdoor adventure, action movies to comedy and for as low as P20/month.
Guaranteed to give dad a thrilling time are sports channels in his selection. You can subscribe to Fox Sports Pack, the world's biggest sports network and get a chance to catch the opening games of the Wimbledon starting June 28 and the US Open USGA from June 17 to 20.
Also, a must-have in your selection is NBA Premium TV to get access to the much-awaited 7-game showdown between the Golden State warriors and Cleveland Cavaliers! Get access to Setanta Sports if you want to catch a variety of other sports tournaments from around the world, including The National Rugby League (NRL), the top league of professional rugby league clubs in Australasia.
But of course, a cable line-up for dad isn't complete without movie channels. But if its non-stop action that appeals to dad, Fox Action Movies is your go-to channel, what with its showcase of the biggest, most popular, and most iconic action features from around the world. Must catch movies include Nicolas Cage starrers "National Treasure," its sequel "National Treasure Book of Secrets," "The Rover" starring Guy Peirce and Robert Pattinson, and "Meeting Evil" starring Luke Wilson and Samuel L. Jackson.
Adventures come in different packages via SKY Select's action-packed channels. With KIX, dad gets his fix of high-octane programs including blockbuster action movies, hit action series, cutting-edge reality shows and sports, shows such as first & exclusive fights Bellator MMA, WSOF, ROAD FC every Monday night!
DMAX "brings" dad to wild adventures, such as turbo-charged rides, the great outdoors, even the kind that technology, culture, or treasure-hunting brings. "Railroad Alaska" takes him on a treacherous Alaskan railroad trip while "Iron Resurrection" gives him ideas for restorations whether it's motorcycles, cars or boats.
There's absolutely no going wrong when you include RTL CBS Extreme with its selection of top-rating entertainment that include Kingdom and the Terry Crews-hosted World's Funniest Fails.
Give dad a laugh-out-loud time with a subscription to Comedy Central, which showcases a special Father's Day stand-up show.
To know more about how to give dad the best time of his life, just click on to the SKY select button at mysky.com.ph.