Where the sea meets the city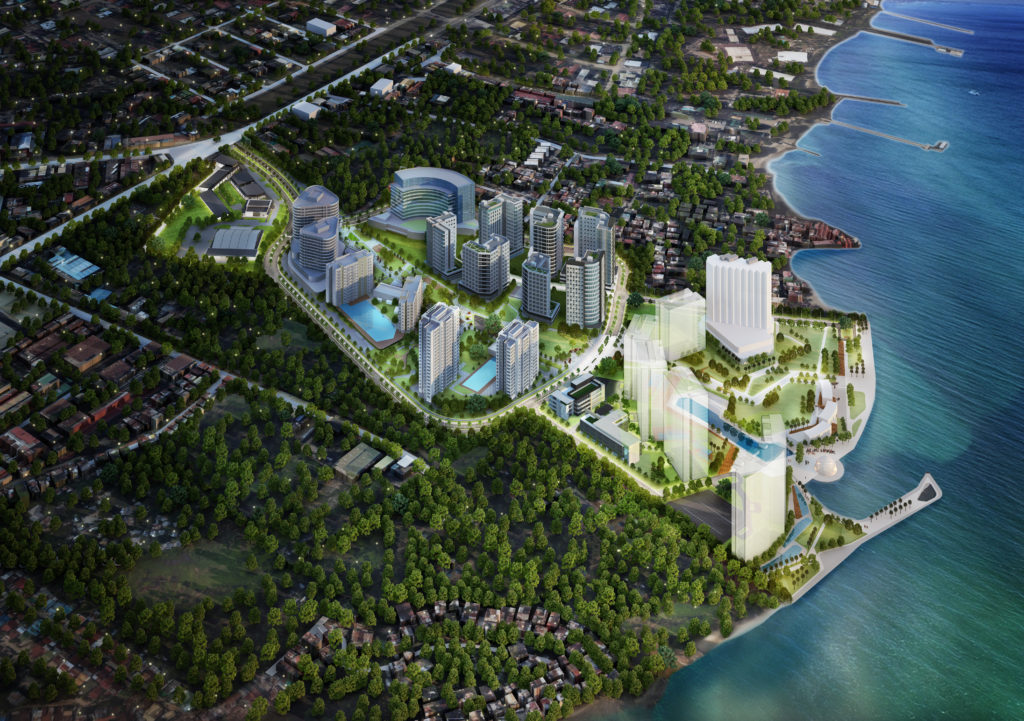 Soon to attract Davao City's ever-growing class of savvy, discerning urbanites is a new destination that promises the comforts and conveniences of city living along with the satisfaction and serenity that only a seaside address provides.
A 25-hectare development located at Km 7 Lanang, Azuela Cove is set to become Davao's prime waterside business and residential district encapsulating a life of fluidity and ease within a vibrant locality and a buoyant economy south of the country. It offers Davao's denizens the best in home, business, and lifestyle in Mindanao—all in one relaxing locale marked by wide, verdant open spaces and a spectacular view of the Davao Gulf.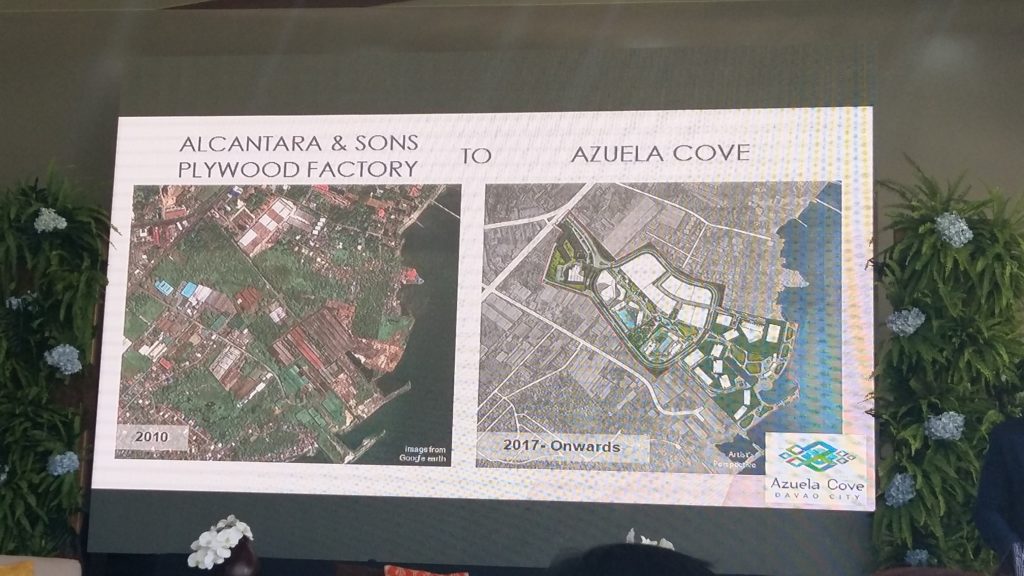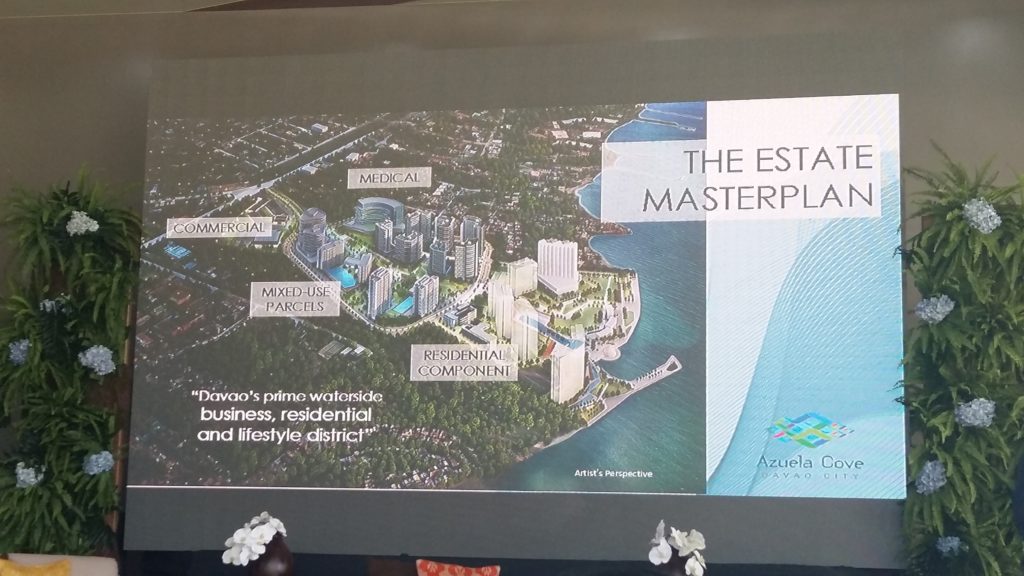 Azuela Cove is the brainchild of Aviana Development Corp, a joint venture company between Ayala Land and The Alcantara Group of Companies. Ayala Land brings in decades of experience in creating master-planned mixed-use estates which include Makati, Bonifacio Global City in Taguig City, and Nuvali in Santa Rosa, Laguna, while The Alcantara Group of Companies (AG) has become one of the largest and most diversified Filipino- owned conglomerates in the country. AG's interests span a wide range of industries, including power generation, agribusiness, forestry, transportation, real estate development and construction-related industries.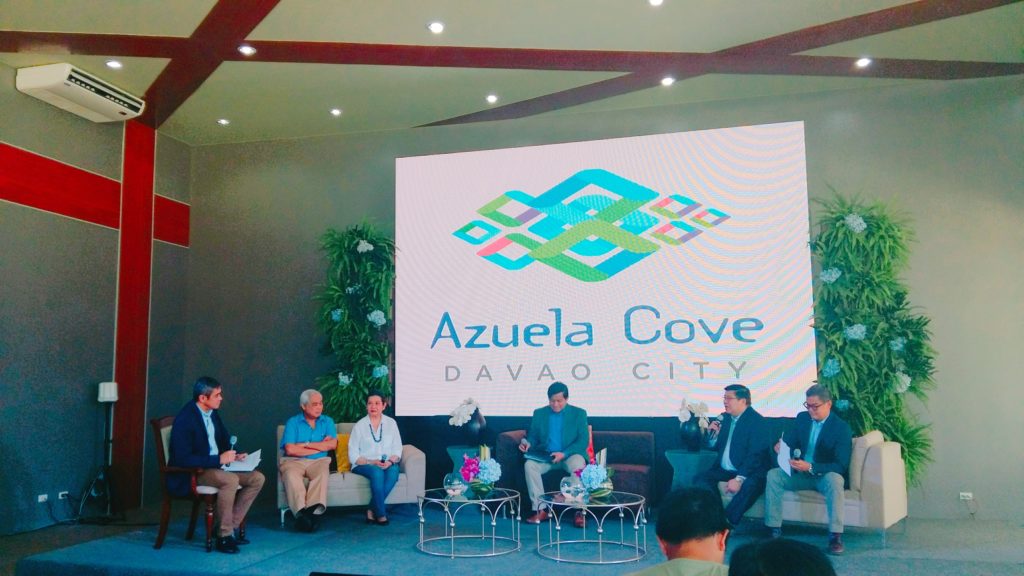 during the presscon with the media moderated by the host Anthony Pangilinan 
The Shops at Azuela Cove, with a total Gross Leasable Area (GLA) of 3,922 sqm, will be home to local food favorites as well as classic national and international dining establishments. At 1,647sqm GLA, The Shops at Azuela Cove's first phase offering will launch on the last quarter of 2017. Another initial locator is Ayala Land Premier (ALP), which will spearhead the development of its first condominium towers in the district, all providing a pristine view of Samal Island and the Davao Gulf. Finally, the world-class St. Luke's Medical Center comes to Davao through a hospital facility at Azuela Cove that is set to open its doors in 2022.
Beyond the retail spaces and residential offerings, this waterside district will come with dynamic features that guarantee a life at Azuela Cove, is a life well-lived.
The Tent at Azuela Cove, is a 2,000 sqm. air conditioned events tent that can accommodate up to 1,500 people. It will soon be open to the public and is ideal for banquets, wedding receptions, conferences, seminars, exhibits, and more.
The Sports Hub at Azuela Cove, includes a 90m x 58m soccer field, a multipurpose Warehouse, and a basketball and volleyball court that are all based on international standard sizes, complete with locker rooms and showers. An open park is also perfect for jogging, biking, and other outdoor activities that sports enthusiasts and the family can definitely enjoy.
As with every development that bears the Ayala Land mark, Azuela Cove is designed with sustainability in mind. Besides the site being hazard-resilient, it will house a man-made forest, landscaping that makes use of endemic Filipino plant species, rainwater catchment facilities, and other features. Moreover, Azuela Cove marks its contribution to the local economy, with close to 5,000 jobs to be filled in its first phase alone. Connectivity is another important requirement the estate addresses, as it envisions a walkable community through its verdant gardens and paths and offers a convenient point of access to residents and visitors through its location at the junction of J.P. Laurel and R. Castillo Avenues.
Azuela Cove is shaping up to be the ideal address for individuals, families, and businesses in Davao City that are drawn to the urban comforts that Ayala Land developments are known for, but also seek the sense of community that living in Davao brings.
Azuela Cove is an estate by Ayala Land with The Alcantara Group. Ayala Land is the Philippines' leading developer of sustainable estates offering a diverse mix of quality residential and commercial developments that support local economic growth.