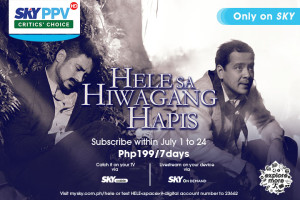 With premium entertainment services such as SKY Pay Per View now available, movie aficionados among SKYcable digital subscribers are empowered with the convenience and privilege of a front-row access to topnotch, fresh-off-the-cinema films in the comfort of their own homes and watch these masterpieces at their own pace.
Fresh from its cinema run last March, Filipino families will have such privilege as the eight-hour Lav Diaz epic opus "Hele sa Hiwagang Hapis" starring Piolo Pascual and John Lloyd Cruz will be playing exclusively on SKY Critics' Choice pay-per-view this July.
"Hele sa Hiwagang Hapis" is the much-talked about film of esteemed director Lav Diaz that won the prestigious Silver Bear: Alfred Bauer Prize at the Berlin International Film Festival earlier this year. It weaves together Filipino revolution, literature, and mythology presented in two stories. One story recalls Gregoria de Jesus' search for the body of her slain husband, Andres Bonfacio, while the other follows a journey of Crisostomo Ibarra (Piolo Pascual) and Simoun (John Lloyd Cruz), characters from Jose Rizal's Noli Me Tangere and El Filibusterismo.
Moviegoers during the Berlin film fest sat through the eight-hour movie with just one break but praised and cheered for Diaz's 'Hele,' the longest film to ever compete in the festival. But SKY subscribers will have more flexibility in taking part in the 'Hele' experience as they get to catch it on pay-per-view at home for a commercial-free seven-day continuous viewing in high definition.
Aside from watching 'Hele' on TV, subscribers can even catch the film on any device anytime, anywhere through SKY On Demand, SKY's video-on-demand platform exclusive to all SKYcable postpaid subscribers using a SKYbroadband internet connection. In SKY On Demand, subscribers have the power to pause and rewind while watching 'Hele,' making the 'Hele' experience more convenient.
In an interview with ABS-CBN News, Piolo said that 'Hele' didn't feel like an eight-hour long film.
"Maiisip mo talaga na eight hours is nothing. It's a treat more than it being a sacrifice. You learn so much about history, about filmmaking. It brings you there. In all honesty, I'm not trying to patronize the film pero bitin pa siya. Ang dami pang puwedeng puntahan ang story," he said.
John Lloyd meanwhile, said to ABS-CBN News that the film doesn't just revolve on Andres Bonifacio.
He remarked, "tinuturuan ka niya how to become a more responsible Filipino when it comes to your own history. The real magic and the real campaign of Lav why he did this film, he really wants change and real change only happens individually — ikaw, ako, isa-isa tayo."
Don't miss the rare cinematic event with the entire family only on SKY. To be part of the 'Hele' experience on SKY, subscribe within July 1-24 by visiting mysky.com.ph/hele, or calling SKY hotline at 305-5456.
'Hele' is available to SKY subscribers in Metro Manila, CAMANAVA, Rizal Cavite, Laguna, Bulacan, Cebu, Baguio, Iloilo, Bacolod, Davao, Dumaguete, and General Santos for only P199 for standard definition (SD) or high definition (HD) viewing.