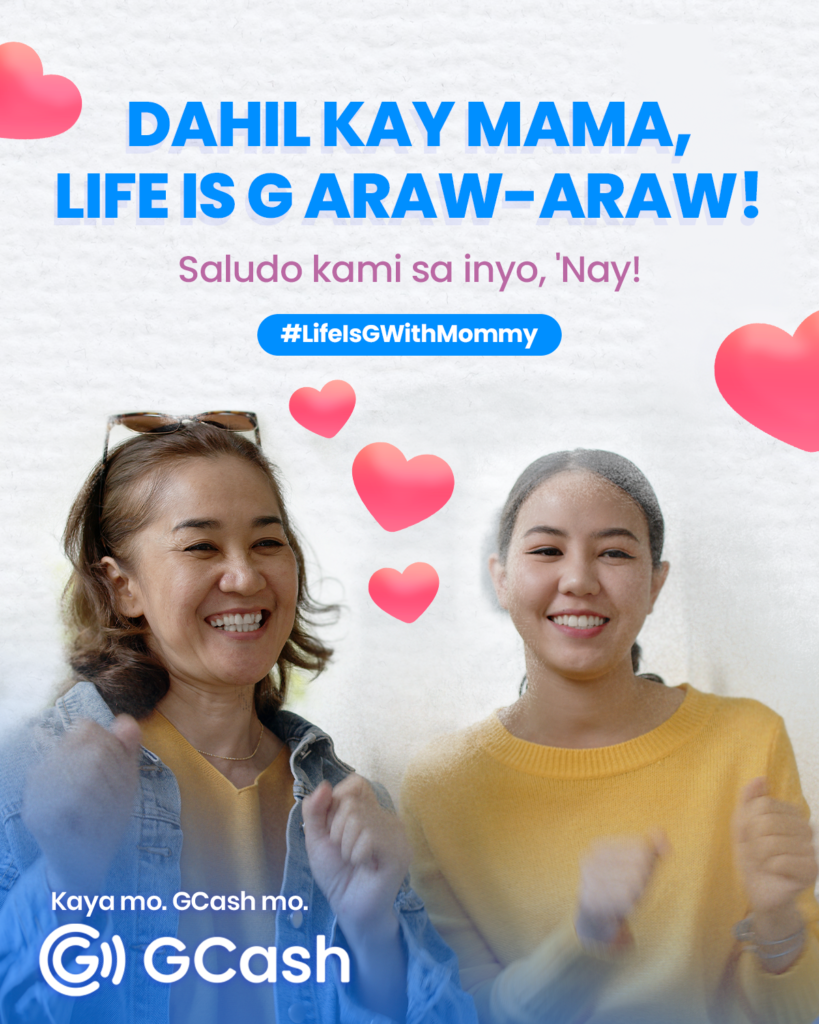 Just like the super moms out there, GCash, the Philippines' popular fintech super app, is going the extra mile to make sure mothers remain financially empowered especially on Mother's Day.
GCash is offering a full suite of digital products and services that can help moms better manage or even extend their finances.
Through GCash Send Money, moms can transfer funds for their families safely and in real-time. GCash Padala makes it easier for mothers working overseas to send money to their families in the Philippines. The Scan to Pay feature doesn't only make payments safe and hassle-free, it can also help mothers manage and track their budget. If finances are a bit tight, GCredit gives a credit line of up to P 30,000 that allows moms to pay for online transactions and essentials at a later date. Moms who are dedicated to saving money for rainy days can also enjoy a hassle-free savings experience with GSave which offers a 4.10% interest rate.
For all that they do, mothers deserve to be celebrated every single day but this coming Mother's Day, you can also make your mom feel extra special without emptying your wallet.
Here are four awesome ways to treat your mom on her special day with the help of GCash:
Send her flowers. One of the most time-honored and traditional gifts to give to mothers. This coming Mother's Day, you can send your mom flowers without spending too much as the flowerstore.ph on GCash app currently offers a 20% off with promo code GCASHMDAY20.
Treat her to a fancy home date. Let your mom enjoy her day with a feast delivered at her doorstep or a fancy shopping spree with GLife, a one-stop online shop available through the GCash app. Order your favorite meals easily from McDonald's, KFC, Tapa King, Kraver's Canteen, Peri-Peri, Classic Savory, Goldilocks, and more. No time to go to the mall? Let your mom shop for makeup, clothes, bags, or home décor at Lazada. Aside from food and shopping, GLife also hosts various lifestyle brands from gaming to gadgets and wellness, among others.
Surprise her with a kitchen upgrade. Purchase a good-quality rice cooker, an airfryer, an espresso machine, or a refrigerator with the help of GGives on the GCash app. It allows qualified users to purchase big-ticket items up to P30,000 and pay for it in installments up to 12 months without a downpayment or processing fee.
Treat her to a vacation. There is no question that moms deserve a relaxing vacation, whether a staycation at a hotel or a beach getaway. No extra budget? No worries! That's because GLoan has got you covered. GLoan is a financial service on the GCash app that allows qualified users to borrow as much as P25,000, with repayment spread out to over 12 months.
While our presence and a heartfelt greeting on her special day is already a treat for her, a bit of pampering will surely be appreciated by our beloved moms. With all that GCash can offer on the app, there is no shortage of gift ideas guaranteed to make mom smile on this special day.
The GCash app is available for free on Google Play or App Store.