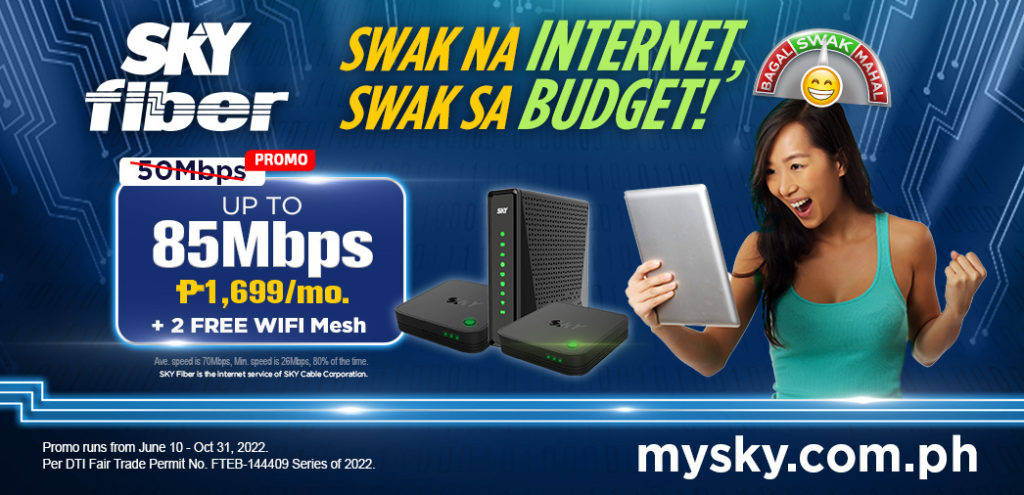 With rising costs of fuel, electricity, and other household essential products affecting Filipino families, SKY Fiber offers new deals on their Super Speed Plans to provide unlimited broadband plans with a balance on reliable fiber-fast speeds and monthly fees that won't eat up a chunk of their household budget.
"We understand the challenges of Filipinos when it comes to affordability, so we have created plans that are really 'swak' for their needs when it comes to seamless connection and affordable prices," said SKY Fiber senior marketing manager Angel Cordero on ABS-CBN News Channel's Dateline Philippines.
Cordero said subscribers have been experiencing challenges that generally stem from the cost of having an internet connection at home and finding the right speed for their everyday needs, which SKY Fiber is addressing with its new Super Speed Plans.
As we enter the second half of the year, SKY Fiber's free speed boost promo offered on select plans until October 31 has been further improved for a faster online experience without additional fees. The SKY Fiber 50Mbps Plan (P1,699 per month), for example, now allows subscribers to experience up to 85Mbps speed for free until the end of October.
Hassle-free online applications are also possible with SKY Fiber via the website or KYLA, their 24/7 virtual assistant available on the website, Viber, and Messenger. Those that will apply online for a SKY Fiber 50Mbps Plan or higher until July 23 will be treated up to P400 Jollibee e-GCs.
As more Filipinos are adapting digitally, SKY Fiber enhances customers' online experience by bundling one or two WiFi Mesh for free, depending on the chosen plan. A WiFi Mesh provides proper WiFi signal distribution around the house, eliminating the need for higher speeds that would incur more cost.
SKY Fiber Unli Broadband + HD Cable TV Plans are available so that families can save and efficiently pay for both subscription plans with SKY. These plans also come with a SKY Evo digibox to conveniently access Google Play Store apps and content streaming services like HBO GO, Viu, and iWantTFC.
SKY Fiber is available in Metro Manila, Bulacan, Rizal, Cavite, Laguna, Batangas, Baguio, Cebu, Dumaguete, Bacolod, Iloilo, Davao, GenSan, and Zamboanga.
Visit mysky.com.ph/skyfiber to learn more and subscribe.