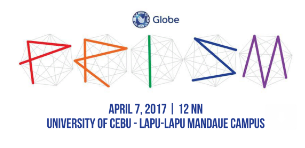 Globe Telecom, in partnership with the University of Cebu (UC),  capped off the Visayas leg of PRISM, a digital literacy training program designed to equip private school teachers with technological skills for effective classroom teaching.
PRISM is in line with Globe Telecom's sustainability commitment to empower every Filipino with world-class learning through technology in response to United Nations Sustainable Development Goal No. 4 to "ensure inclusive and quality education for all and promote lifelong learning."
According to Ms. Michelle Tapia, Globe Advisor and Head of Education Strategy & Innovation, "These days, it is imperative for teachers to learn how to use information and communications technology (ICT) tools in the classroom if they want to motivate students to learn and to help increase their skills for entrepreneurship and employment. The changing times mean that teachers need to continuously adapt to their evolving role. Through this program, we are assisting the teachers in discovering new ways in which they can foster creative and critical thinking among the students,"
Early this year, Globe has reached out to 1,000 educators from all over the country with the aim to provide additional digital learning . Of the number, 140 teachers came from the Visayas region. The program was participated by representatives from the University of Cebu, Cebu International School, Holy Name University, Negros Mission Academy, Sacred Heart School- Ateneo de Cebu, Sacred Heart School- Hijas de Jesus, Santa Isabel International School, St. Joseph College, University of Negros Occidental- Recoletos, University of San Carlos, University of St. La Salle, St. Paul University Dumaguete, and Silliman University.
Through PRISM, the selected teachers underwent a three-week professional development program conducted by Globe. It included a two-day immersive bootcamp, distance project-based learning, and personalized coaching. A key component of the program is the Brightspace Integrated Learning Platform where the teachers underwent distance learning for three weeks with access to the global Brightspace Community and multimedia resources to guide them through the learning process as well as a seamless platform to collaborate with learning coaches and teachers in real time. For the culminating activity, the teachers were invited to showcase various projects on technology-enabled instruction and content development.
PRISM is supported by Globe myBusiness whose mission is to help transform Philippine schools and empower every Filipino with world-class learning through technology. "We want to create a better education system through an ecosystem of enablers. We want to impact the lives of the students in the best way that we can. But first, we have to train the teachers on the effective use of technology to encourage 21st century learning in the classroom," said Derrick Heng, Senior Advisor, Globe myBusiness Group.
Teachers who attended the PRISM Digital Literacy Program were nominated by both Globe and the Private Education Assistance Committee (PEAC). The PEAC National Secretariat processed the nominations submitted by schools nationwide while a Vetting Committee, composed of two (2) representatives from the Coordinating Council of Private Educational Associations (COCOPEA), a DepEd Regional Director, and the PEAC Executive Director, was set in place to closely vet the nominated teachers.
PRISM was earlier conducted in Metro Manila and Naga City while Pampanga and Cagayan de Oro City will follow within the first half of the year.