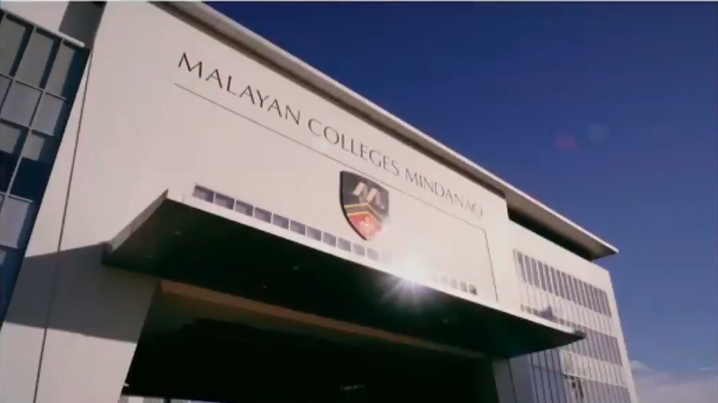 Malayan Colleges Mindanao, A Mapúa School, welcomes the upcoming school year with the opening of its Junior High School Department. Expanding its academic horizon to offer Grades 7 to 10, MCM furthers its mission to produce excellent and relevant students who are
globally competitive and locally in demand.
Malayan Colleges Mindanao, where technology is successfully integrated into classrooms, continues to personalize and enhance education for its learners by leveraging digital resources that redefine instruction and student learning.
With a strong focus on 21st-century learning, Malayan Colleges Mindanao equips Junior High School with a comprehensive and unique learning system, guided learning with qualified teachers, and special tools for lesson mastery.
Easy and Unique Learning System
Malayan Colleges Mindanao features a Unique Learning System called the MCM Digital, powered by one of the world's leading learning management systems, Blackboard Learn. It offers a centralized portal to access learning contents, resources, and educational tools that facilitate learning in the next normal.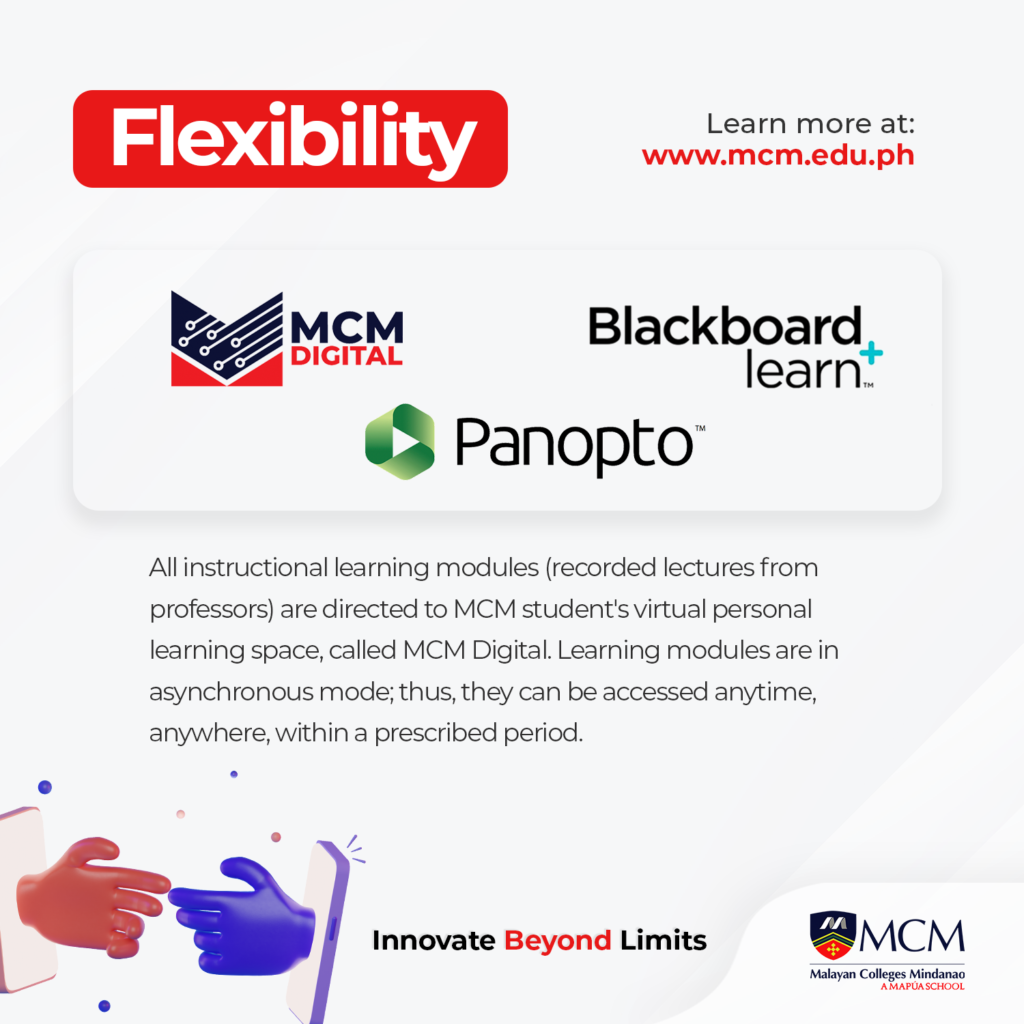 "Through MCM Digital, learning can happen regardless of the mode of delivery, ensuring continuity of learning and engagement with students and the community during the pandemic and beyond. As we move toward the next normal, MCM will continue to embrace the digital future for basic and higher education and equip our students further with the skills for the
connected digital world. MCM will explore further the opportunities and benefits of new technologies and put these to work for a better education system" – Dr. Dodjie Maestrecampo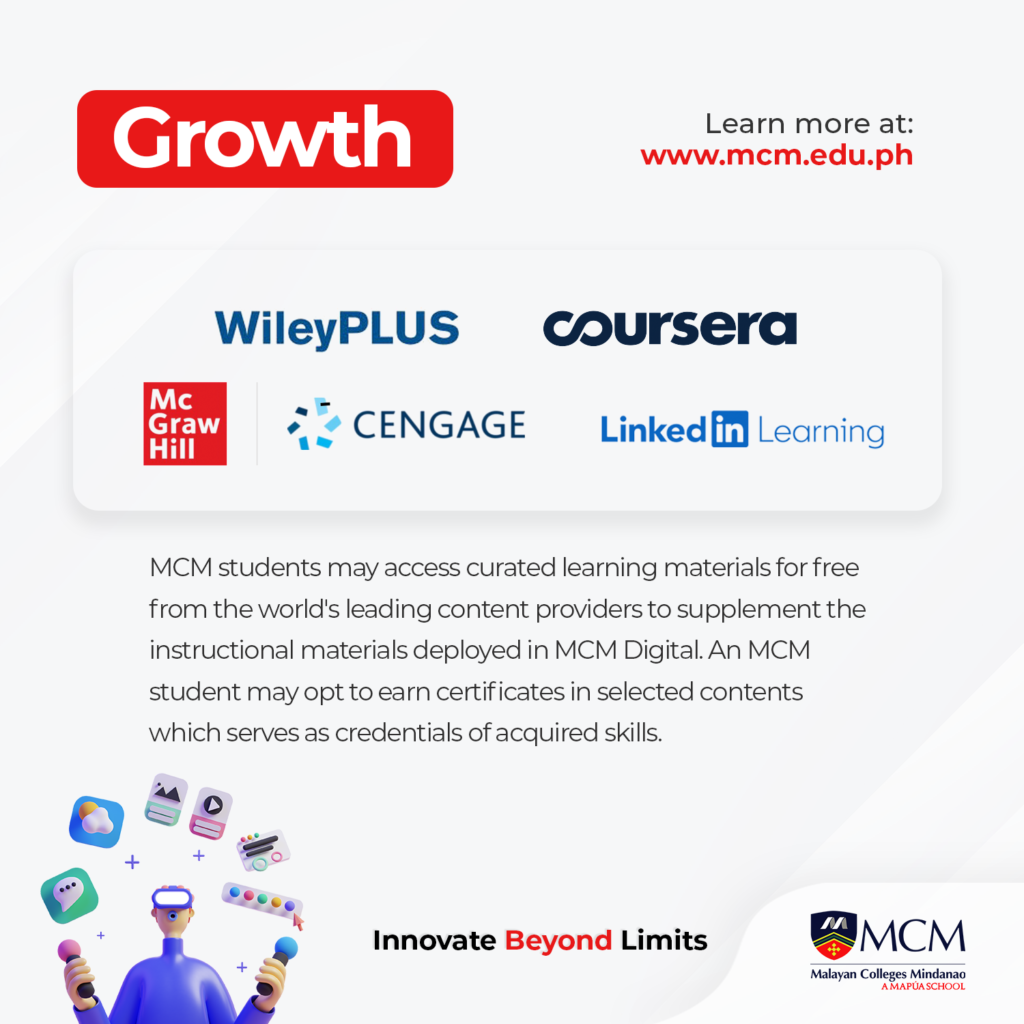 The school also provides its students with a wide array of online learning modules from the world's leading content providers such as Wiley, Elsevier, Cengage, McGraw-Hill, Coursera, and Linked In, and more.
Guided Learning with Qualified Teachers
Part of MCM's Unique Learning System is conducting synchronous classes or virtual classroom setups through Blackboard Collaborate, Microsoft Teams, or Zoom. These create an avenue for students and teachers to engage in discussions virtually, which boosts participation and enhances student performance. After synchronous classes, well-designed
learning modules and tasks can be accessed asynchronously, allowing students to take charge of their education with the convenience of self-paced learning.
Missed your synchronous classes due to poor internet connections or other unforeseen circumstances? Worry no more! Malayan Colleges Mindanao allows students to revisit synchronous sessions through recordings. To help the students with their online classes, the school offers discounts for gadgets, internet providers, and load promos through partnerships with Apple, Acer, Lenovo, Smart, Globe, Sky, and more.
Special Tools for Lesson Mastery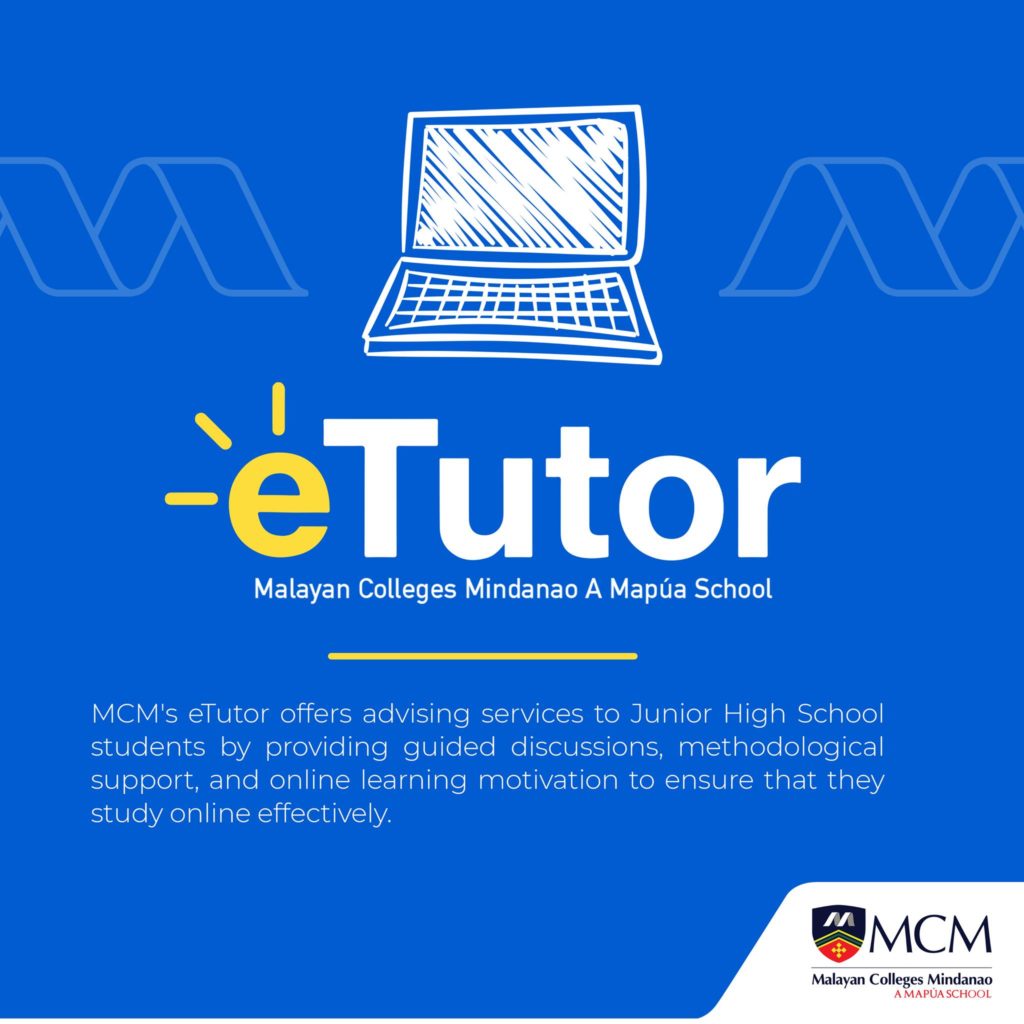 MCM Junior High School students are also offered an optional supplementary program called MCM eTutor. It is an advising service extended to students to assist them in overcoming difficulties in learning. The MCM eTutor provides support and ensures that students during online classes are learning effectively. It also involves guided discussions, methodological support, and online learning motivation.
The MCM eTutor is deployed through asynchronous tutorial microlessons, live doubt solving, and one-on-one online tutoring with the teachers.
A. Asynchronous Tutorial Microlessons
Junior High School's eTutor program includes Asynchronous Tutorial Microlessons. These microlessons are repeatable, short video lessons to explain selected complex topics. Asynchronous Tutorial Microlessons is a mobile-friendly, engaging, fun, and convenient way to achieve learning competencies quickly.
B. Live Doubt Solving
The MCM eTutor will be regularly conducting Live Doubt Solving as well. Once a week, students can attend synchronous problem-solving classes lead by an MCM teacher in addition to synchronous sessions in their regular classes. Students will be
given a chance to present their doubts about the week's topic for the teachers to clarify and resolve immediately during the session.
C. On-demand One-On-One Online Tutoring with MCM Teachers
On-demand One-On-One Online Tutoring with MCM Teachers will be available to students who prefer to learn through individually tailored instructions to work on their challenge areas. This activity will focus on student's challenge areas and allow teachers to aid in their overall progress.
Visit MCM's website at www.mcm.edu.ph to learn more. Or apply now at
www.mcm.edu.ph/admissions/apply-now
For inquiries, contact at 0918 918 1626, 0999 227 7493, or 0917 831 8048, or send a message at m.me/MalayanMindanao.