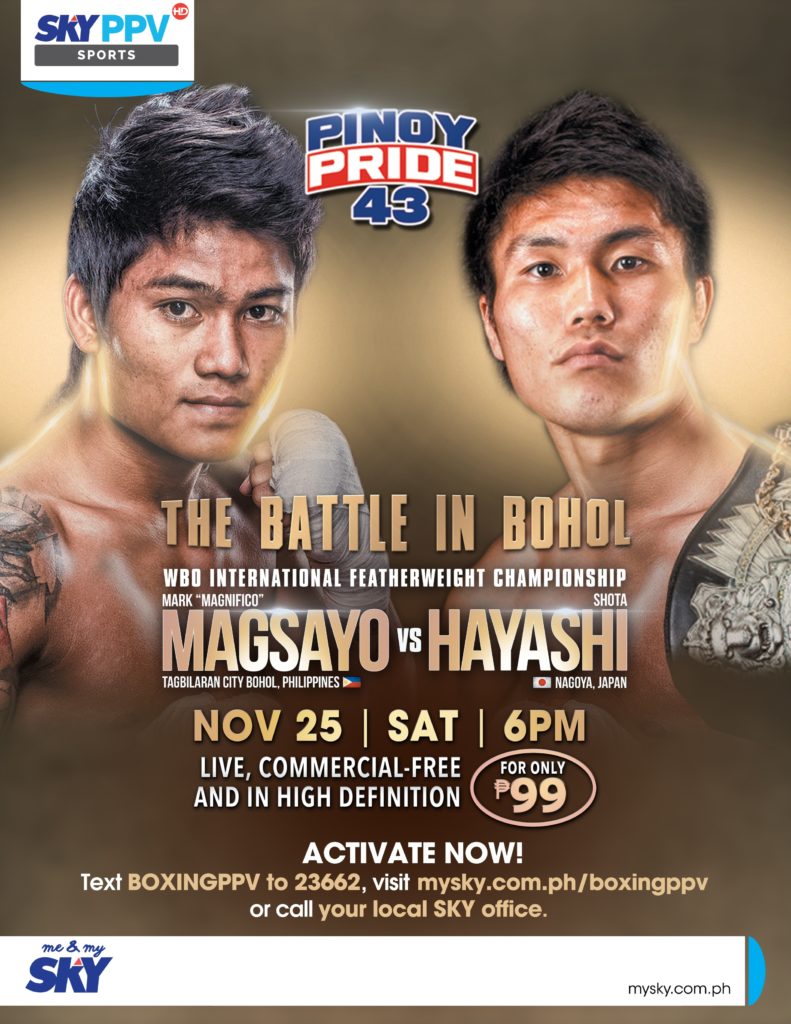 Mark "Magnifico" Magsayo will fulfill a childhood dream of fighting in his hometown when he
faces Japan's Shota Hayashi in his hometown of Bohol on November 25, Saturday. SKY
subscribers can watch the fight live at 6 PM through SKY Sports Pay-Per- View.
Magsayo goes into the fight undefeated, with a record of 17 wins, 13 of which are knock
outs, giving him a 76 KO percentage. He is currently number two in the WBO featherweight
class and ninth in the WBC featherweight class.
Now, the 22-year old undefeated boxer from ALA Boxing Gym will defend his WBO
International featherweight belt against an experienced fighter from Japan, Shota Hayashi
(30-6- 1, 16 KO). Hayashi is an accomplished fighter with almost 40 matches under his belt.
He defeated Filipino Markquil Salvana in his last fight.
Hayashi is a dangerous fighter and the promoters are using this fight to test Magsayo's
readiness for a world title fight. The young Filipino fighter is eyeing to battle Oscar Valdez
for the WBO featherweight world championship.
Albert Pagara (28-1, 19 KO) and Jeo Santisima (14-2, 13 KO) will also fight in the main card
against Tanzanian Mohammed Kambaluta (17-3, 6 KO) and Indonesian Kichang Kim (8-4, 2
KO), respectively.
Watch Magsayo ang Hayashi clasH in the ring live, commercial-free, and in high through
SKY Sports PPV for only P99.
Call 305-5456 to subscribe or visit www.mysky.com.ph/boxingppv. SKYcable subscribers
can also text BOXINGPPV to 23662. SKYdirect postpaid subscribers can text SKY to 23668,
while prepaid subscribers can text PPV <SPACE> BOXING <SPACE> <BOX ID> TO 23667.
SKYbroadband subscribers can watch via SKY on Demand.