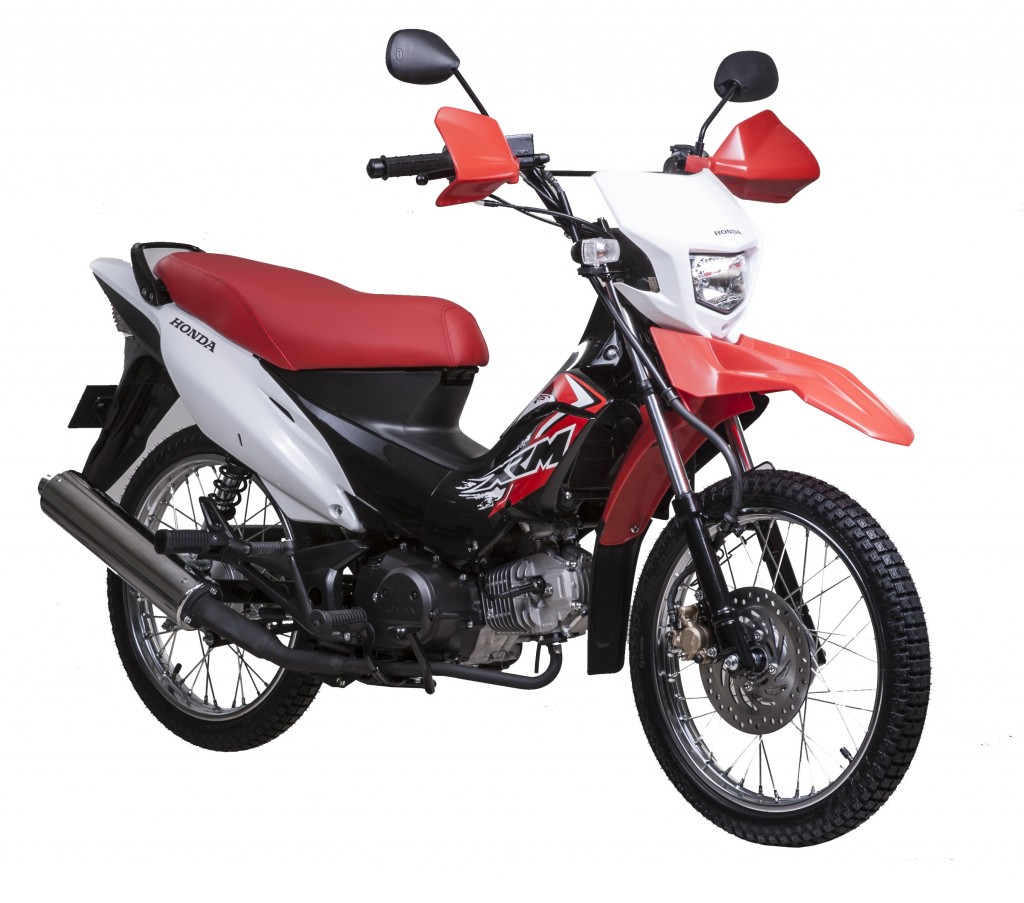 From the country's no. 1 motorcycle brand, Honda launches another innovation in ingenuity with the new Honda XRM125.  This bike is now equipped with the face of the world-famous CRF Series motorbikes – a fusion of toughness, powerful agility and style!
SPECS HIGHLIGHTS
This powerful, highly economical, environment-friendly and durable bike comes with 3 variants – the XRM125 Dual Sport which is the peoples' bike, the XRM125 Motard which is a sleek ride for urban riders and the special edition XRM125 Dual Sport Extreme (DSX) which is designed to go beyond.  All bikes are developed and designed with CRF DNA that will surely give Honda's valued customer the real joy of riding both on/off road condition.
The built-to-last feature of XRM is now upgraded to CRF characteristics that will provide customers with years of trouble free, low maintenance and riding enjoyment.
Now, attention focus on the new headlight and front fender, which project the dynamic off-road look of Honda's most popular CRF machine.
The frame provides a low seat height and easy to reach ground that is appealing to Filipino riders.  The broad comfortable seat offers ample room for two.  The handle bar is ergonomically designed for safety On/Off road manoeuver.
Braking duties for XRM125 Dual Sport is handled by wide front disk brake while for Motard and Dual Sport Extreme is a combination of rear and front disk brakes.  Tyres are rugged, dual purpose treads designed to provide an easy comfortable ride on both roads.
Total packaging and combination is so dynamic that is poised to stand out from the crowd and be another top selling model.
INTRODUCTORY PRICE
Introductory price for the new XRM125 is Php 64,500 for Dual Sports Model, Php 69,800 for Motard and Php 67,900 for Dual Sports Extreme.  The new Honda XRM125 is readily available at all Honda 3S Shops Nationwide.
WIDER CHOICE
From XRM125 that suits the Filipino lifestyle, to XR125L that is ready to step-up for the next challenge, to CRF250L that conquers greater heights, Honda Philippines, Inc. has now sealed the Philippines' On/Off road bike line-up.  Thus, we give the Filipinos the freedom to choose.
CUSTOMER SERVICE SUPPORT
To provide the best ownership for XRM125 variants, customers will be able to enjoy HPI's 3 year warranty and the most affordable Php25 Tune-up service available only at Honda 3S dealers nationwide.