Plus a chance to win free tickets for Jollitown Funtasy Land in Davao!!
(Names of winners are listed below)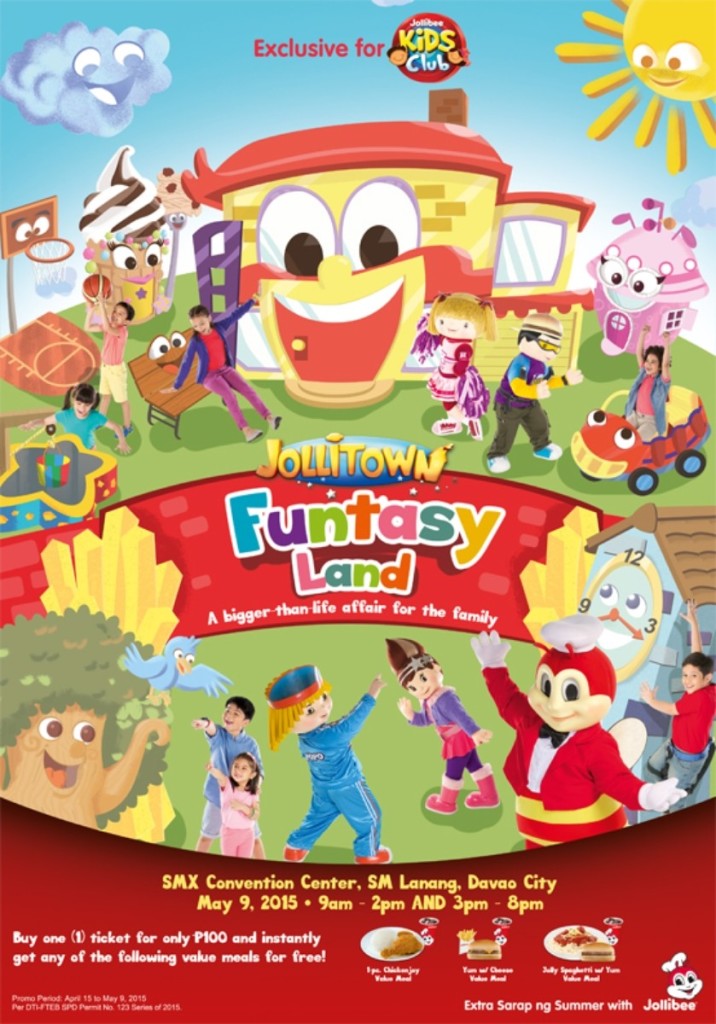 The fun is endless for kids and kids at heart who love Jollibee. This is because Jollibee Kids Club (JKC), the country's premier and biggest club for kids treated its members and their families last April 11 to enjoy an unforgettable extra sarap summer during the initial salvo of the Jollitown Funtasy Land event at the SMX Convention Center in Manila. It easily became the season's most sought-after event for children as it brought a summer playground so interesting for the little ones making their dreams come true.
The kids had a blast as Jollitown came alive right in front of their  very eyes. They had so much fun seeing familiar faces they've grown to love: Jollibee and friends Hetty, Twirlie, Popo and Yum. Pipoy Puno, the show's resident enchanted tree was also there to entertain them
Jollitown Funtasy Land happened at 9AM-2PM and 3-8PM, bringing a magical summer adventure which goes with various mystical characters and magical fixtures such as the rainbow slide and wishing well. The young ones had the chance to explore the Funtasy Land by foot or by riding the ready-for-action Jollitram.
With so much sightseeing and adrenaline-filled activities in store, kids never ran out of things to discover. They enjoyed a bouncing good time at the giant inflatable Jollibee House, and scaled new heights at Velcro wall of the Dingdangdong Clingers. Kids also channeled their inner singing stars at Twirlie's Music Studio, shared fun stories with Jollibee at the Jolliphone Booth, and met friendly and magical characters at the Maze of Enchanted Trees. These one-of-a-kind play areas delivered hours of family fun and opened up opportunities for them to make friends with fellow JKC members.
The event showcased the favorite Jollitown pals as they shared their talents with their kiddie friends. The bubbly and energetic Hetty wowed everyone during her Cheerleader Moves segment, while Twirlie proved her star power during her Musical Fantasy piece. Jollibee, on the other hand brought the house down with his show-stopping dance moves.
Aside from the magical attractions, Funtasy Land visitors and their families also enjoyed their langhap-sarap favorites at the event. There were also limited edition Jollitown souvenirs for the avid collectors. Guests were given a raffle entry and the kids went home happy with loot bags containing Jollibee goodies.
Good news for kids in Davao!!
The fun continues as the Jollitown Funtasy Land caravan heads down south to bring cheers to Davaoeno kids. The entire Jollibee gang will be at the SMX Convention Center at SM Lanang Premier on May 9, at 9AM-2PM and 3-8PM.
Tickets are available in selected Jollibee stores in Davao for only P100. This is inclusive of venue entrance and access to all attractions, one (1) free value meal (choice of 1-pc. Chicken Joy VM, Yum w/ Cheese VM or Jolly Spaghetti w/ Yum VM), raffle entry and loot bag (for JKC members only).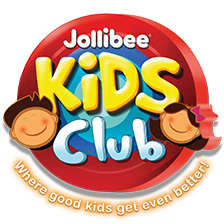 To enjoy year-long rewards and earn points, register your kid for a JKC membership. This will allow him to enjoy exciting and fun-filled year-round events, celebrations and surprises from Jollibee.
–
Go to Jollibee and ask at the counter about Jollibee Kids Club.
-You will be given a Registration Form which you have to fill up.
-Give the accomplished Reg Form and pay the P100 membership fee at the cashier. A Jollibee Kids Club Happy Plus Card will be given to you.
-Enjoy the perks and rewards by being a Jollibee Kids Club member using your new Jollibee Kids Club Happy Plus Card!
(Note:  In using the card for food purchases, you need to load an amount before you use it)
Guess what? 3 of my readers will  have a chance to win 4 free tickets each for this event in Davao, check the mechanics below for details:
To win four (4) tickets to the event, moms and dads need to post a photo of their kids having fun at Jollibee, eating their favorite langhap-sarap treats, playing with their JKM toys, or participating in any Jollibee or JKC-related activity on Instagram.
Follow and tag @ketchupthelatest and @jollibee on Instagram, and use hashtag #JollitownFuntasyLand in their captions. Captions should also come with a brief answer to the question, "My family would love to go to the Jollitown Funtasy Land because ____________________."
This contest is open until MAY 7. The lucky winners will be announced on MAY 8.
NOTE:
The winners will be notified and will receive their free tickets at the registration area on event day
Winners must present any valid ID upon claiming their prize.
HERE ARE THE WINNERS!!!!
Congrats to the following:
@wenggay_0423 Weng Arendain
@weirduser     Sonny Zorilla
@wengcolina  Weng Colina
You just won 4 free tickets each for the#jollitownfuntasyland event by @jollibee tomorrow at@smlanangpremier See you!!!!