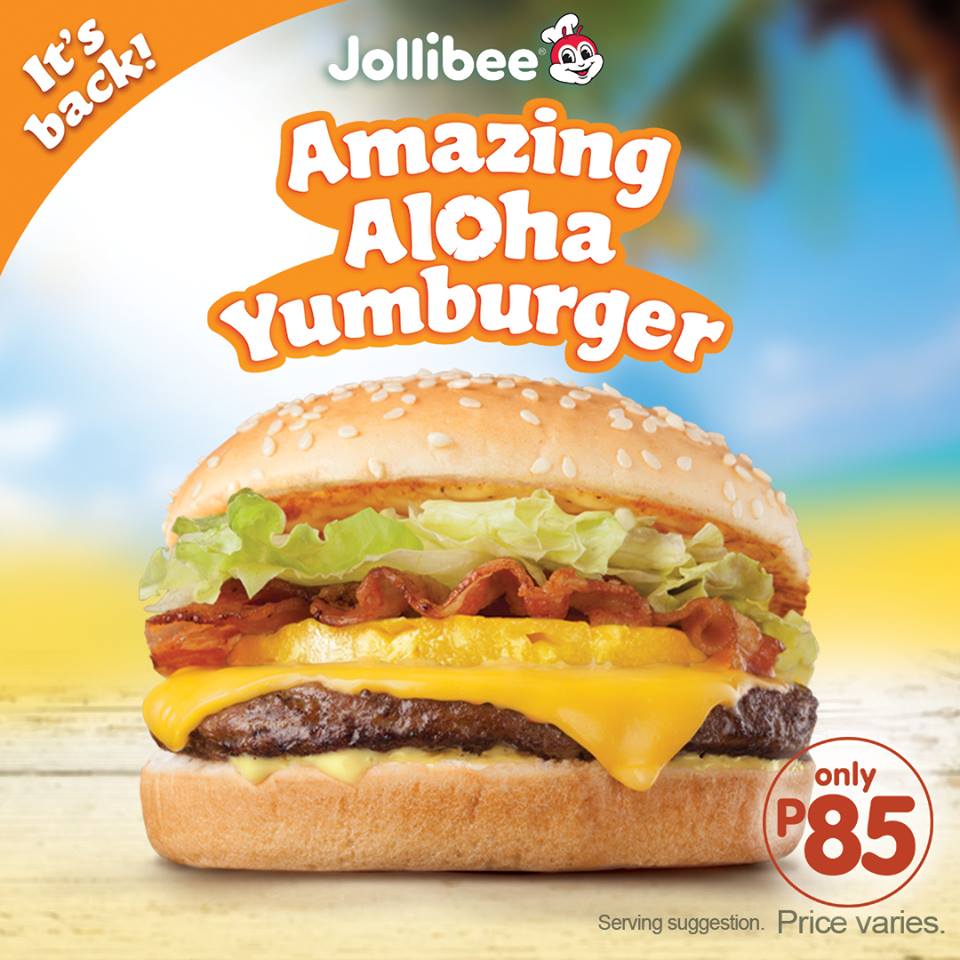 Say 'aloha' as  Jollibee's truly Amazing Aloha Yumburger is making a comeback this month. Launched in 1996, this Pinoy burger was re-introduced in 2013 as the Amazing Aloha Yumburger and in 2014 as Amazing the Aloha Champ. Best known for featuring a sweet, iuicy pineapple ring among its main ingredients, this uniquely flavorful burger has delighted the taste buds of Jollibee's loyal customers. For the Amazing Aloha fans out there, you know too well that this uniquely packed burger has that savory langhap-sarap flavors and I know that you're as thrilled as I am as this legendary classic returns and will definitely make our tastebuds sing.
"The Amazing Aloha Yumburger is Jollibee's most successful limited-time-offer burger," shared Luis Berba, Jollibee Brand Manager for Yumburger. "There was nothing like it in the market since we first included it in the Jollibee menu. Back then, burgers were fundamentally similar. Jollibee wanted to introduce something different to the Filipino market; something that brings together the sweet-savory flavor combination that many Pinoy diners love."
The result of this desire to bring something different to the table was the explosive combination of ingredients, textures, and flavors in a truly flavorful sweet-savory burger.
The Jollibee Amazing Aloha Yumburger owes its legendary status to the flavor explosion that comes with every bite. The heart of every Aloha Yumburger is the 100% langhap-sarap pure beef patty, which has cemented the place of Jollibee Yumburger in the hearts of customers. Flavor-packed on its own, the langhap-sarap patty reaches another level of deliciousness when combined with the sweet and juicy pineapple ring, crisp bacon strip, a specialty blended honey mustard dressing, and fresh lettuce.
It's no wonder why the Amazing Aloha Yumburger has remained to be one of Jollibee's most memorable offerings-this combination of ingredients and flavors alone is more than enough to entice even the pickiest burger eaters! So legendary is the Amazing Aloha Yumburger that it even impressed one of the world's most renowned food experts, Anthony Bourdain.
The famous chef, TV host, author, and culinary adventurer discovered the Amazing Aloha Yumburger during a trip to a Jollibee branch in Los Angeles, California for his CNN show Parts Unknown. One bite into the legendary burger and Bourdain exclaimed: "that's a very tasty burger!"
The Amazing Aloha Yumburger is back in all Jollibee stores nationwide, starting October 2017. Customers can take a bite of this legendary burger for only P85 (Amazing Aloha Yumburger Solo).
For more information on Jollibee's latest product offerings, news, and promotions, like facebook.com/.lollibeePhilippines or follow @Jollibee on Twitter and lnstagram.