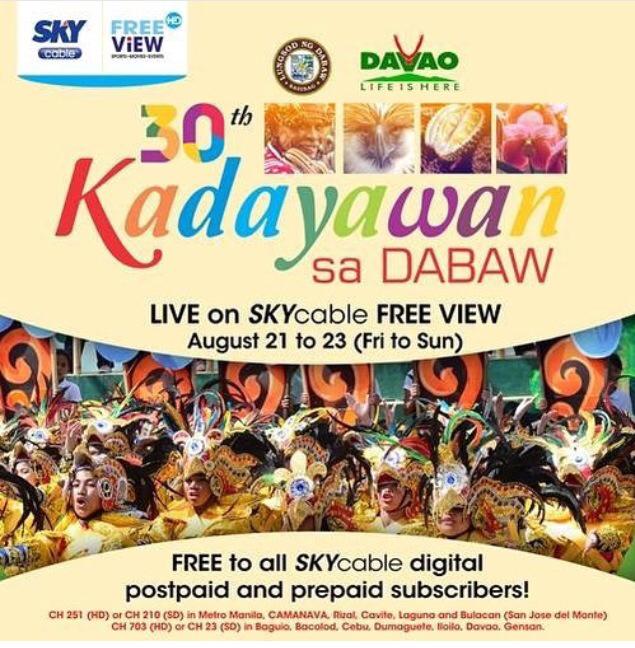 Let all things joyful and glorious burst in full color in Davao City's Kadayawan 2015 Festival this month! Celebrating cultural treasures, bountiful harvests, and the serenity of life, the Kadayawan Festival highlights the heritage of Mindanao's indigenous peoples and its migrant settlers. From the 17th to the 23rd of August 2015, dances and live performances fill Davao's streets as everyone indulges in the happiest week in one of Mindanao's grandest cities.
Rooted in the age-old ritual of offering thanksgiving to the ancient Gods, especially "Manama" The Supreme Being, this vibrant feast highlights the plentiful fruits, flowers, vegetables, and grains that are seen as blessings from the divine. This spirit and practice of giving thanks, known collectively as "pahinungod", is what breathes life to the Kadayawan Festival to this day.
This year's celebration can be called the very pinnacle of all festivals in the country. Starting-off with an ecumenical ceremony to give thanks for this year's bounty, it's followed by a gauntlet of food fests, dancing, musical performances, parades, and pageants. Avid fans of this festival who can't make it to Davao can enjoy all the fun straight from their TV screen at home as SKYcable and Destiny Cable digital postpaid and prepaid TV subscribers get exclusive live access to the major Kadayawan Festival events through SKY Free View. On August 21, revelers at home can catch Hiyas sa Kadayawan, a contest to find the Festival Gem of Davao among the ten indigenous tribes of the city, from 6pm to 10pm. Another great event – the Indak-Indak sa Kadalanan, a street dancing competition that spans all of Davao's major streets and ends in a big showdown in Rizal Park – can be tuned-in to from 8am to 5pm on August 22. And then we have the Pamulak sa Kadayawan, a massive parade of floral-themed floats staged across the city, which airs on August 23, from 8am to 12pm.
The live coverage of these events is available for free on the following channels: Ch. 251 (HD) and Ch. 210 (SD) for those in Metro Manila, CAMANAVA, Rizal, Cavite, Laguna, Bulacan (San Jose Del Monte); and Ch. 703 (HD) and Ch. 23 (SD) for those in Cebu, Baguio, Iloilo, Bacolod, Davao, General Santos, and Dumaguete. Destiny Cable subscribers can tune-in through Ch. 251 (HD) and Ch. 210 (SD).
To know more about this great SKY Free View live telecast, you may call the 24-hour customer service hotlines at (02) 381-0000 for Metro Manila, CAMANAVA, and Rizal;  (046)484-4701 for Cavite; (049)534-1555 for Calamba and Binan, Laguna; 02-520-8560 for San Pedro, Laguna and Carmona, Cavite; 044-693-5877 for Bulacan; (032)421-1818 for Cebu; (082)305-5456 for Davao; (074)442-4841 for Baguio; 034-432-0051 for Bacolod;(033)300-1210 for Iloilo; 035-225-1010 for Dumaguete; and (08 301-3134 for Gen. Santos City.