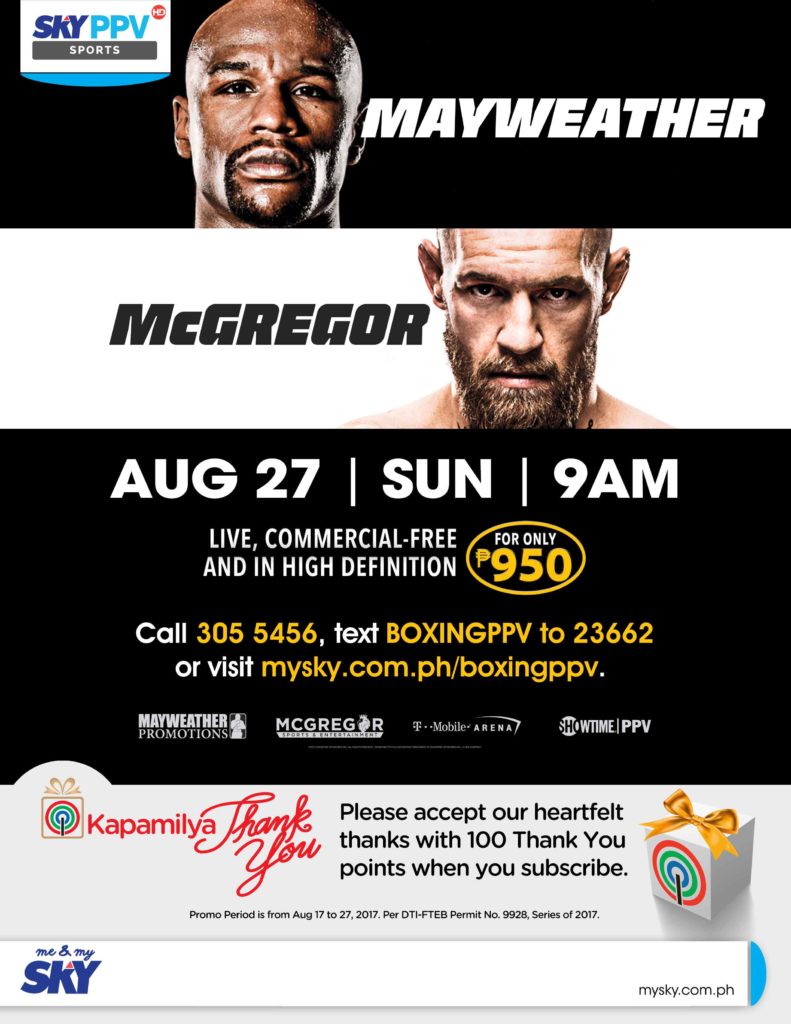 Coming to SKY Sports Pay Per View on August 27, Sunday live and in high definition from the T-Mobile Arena in Las Vegas is the year's most anticipated fight between the contemporary era's greatest fighters, boxing great Floyd Mayweather, Jr. and UFC (Universal Fighting Championship) superstar Conor McGregor.
Fight fans will surely enjoy this match-up of a living boxing legend and a mixed martial arts (MMA) hotshot because it pits two strong athletes with different fighting backgrounds.
Meanwhile Mayweather stayed the path of a boxer and goes in the ring with an undefeated professional fight record of 49-0 with 26 knockouts, 15 world titles, and the lineal championship in 4 different weight classes.
McGregor will challenge the boxing legend, that ESPN has labeled as the top pound for pound fighter of the last 25 years with his own credentials of an MMA fight record standing at 24 bouts, with 21 wins—18 of which via knockout—and only three defeats.
The reigning UFC Lightweight Champion, and former UFC Featherweight Champion has competed as a featherweight, lightweight, and welterweight in the entire span of his career.
The fight will be aired at approximately 9AM but fans can catch the replay at 7PM also on also on August 27.
This special is available to subscribers of ONE SKY, SKYcable, SKYdirect, and SKYbroadband via SKY On Demand for P950.
Existing subscribers can catch the fight by calling 305 5456 (Davao) and 655 6785 (Tagum), by texting BOXINGPPV to 23662 or by visiting mysky.com.ph/boxingppv.
SKYdirect postpaid subscribers can text SKY to 23668; SKYdirect prepaid users can also subscribe through mysky.com.ph/boxingppv
Sports fans are encouraged to watch out for announcements as SKY Sports PPV will continue to offer more live sporting events.