Who let the dogs out?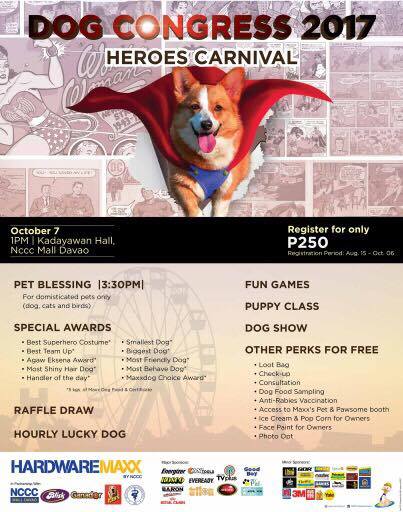 Hello Davao dog lovers and dog owners!
NCCC Hardwaremaxx brings the 9th Dog Congress on October 7 Saturday, 1pm at the NCCC Mall Davao.
"The 9th Dog Congress is now bigger and better. With the opening of our Maxx's Pet Bowtique and Pawlor earlier this year, we have added specialized services so as to attract more dog lovers to join," says Hardwaremaxx marketing officer-in-charge, Christopher Cua.
The annual congress is open to all pet lovers and lots of exciting activities/freebies/instant prizes are in store for this half-day event such as loot box, anti-rabies vaccination, check-up, consultation, dog food sampling from GoodBoy, Pedigree, Vitality, and PetOne.
There's also a pet blessing for domesticated animals.
The registration fee is Php250 which covers the entrance of 1 pet, 1 owner and 1 companion.
During the event, there will be be a raffle draw, free ice cream and popcorn for dog owners, face painting, and photo booth. A dog show and a puppy class will also be included in the list of activities.
To go with the event theme, "Heroes Carnival", exciting games such Hawkeye challenge (darts), Superman challenge (marble drop), Captain America challenge (roleta), Batman challenge (shoot that ball), Green Lantern challenge (shoot that ring), Iron Man challenge (wire loop), Spiderman challenge (coin toss), and Black Widow challenge (shooting range) will sure to spice up the afternoon.
Also, special awards will be given to participants with the Most Amazing Superhero costume, the Best Partnership, the Most Striking Persona, Smoothest and Shiniest hair, smallest and biggest size, Friendliest dog, Most Behaved, handler who brought the most number of dogs, and a Hardwaremaxx Choice Award.
Winners will each receive 5 kilos of dog food plus certificates. Participants will also have access to Maxx's Pet Bowtique and Pawlor Booth. Aside from that, Hardwaremaxx will offer free grooming to the first 15 participants who bought P500.00 worth of goods from Maxx's Pet double display, another 50% off on grooming for the first 20 registrants and for MAXX VIP card holders, while the 21st to 50th registrants can avail a 20% discount on grooming.  Plus, A lucky dog will be randomly chosen per hour starting 12 noon up to 5 pm. They will take home 5 kgs of dog food.  Whew, isn't this exciting guys?
Registration is ongoing in all NCCC Hardwaremaxx branch except Palawan.
Check out NCCC Hardwaremaxx 's page for more details and updates.