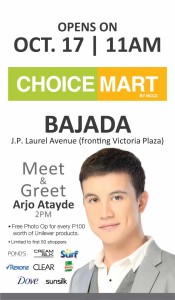 Choice Mart by NCCC further expands its reach to loyal patrons with the opening of its 8th branch in Bajada (also known as J.P. Laurel Avenue) across Victoria Plaza mall on October 17.
Choice Mart opens its doors daily from 9am-10pm, serving residents of Dona Vicenta Village, Obrero and the nearby areas. It will also provide convenience to professionals who work at Landco Building and Pryce Tower nearby. Those that are pressed for time may opt to have their groceries delivered at their doorstep through Grocer-ring.

Choice Mart, a smaller format of NCCC Supermarket, is the by-word when it comes to the day-to-day consumer needs.
Aside from grocery items and fresh produce, it also offers, bills payment, mobile load credits, and food selections such as Waffle Time, Adajar's Fruitshake and Pizza Pedricos.
Over the counter medicines and prescription drugs are available in HB1 Pharmacy.
Former City Mayor Sara Duterte-Carpio is expected to lead the opening ceremonies at 9am followed by a special appearance by entertainment artist, Arjo Atayde at 2pm.
See you there!
For queries you may contact NCCC Headquarters (NHQ) at:
Gempesaw St., Davao City 8000 Philippines
Tel. # : (63-82) 224-0186, 224-6970, 225-5297
Fax. # : (63-82) 226-2555