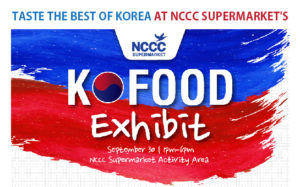 Are you into K-pop? Do you fancy Korean fashion and adore Korean food?
Well, NCCC Supermarket brings Korea not just to Hallyu Fanatics but for food lovers too! Taste the best of Korean Food at the K-Food Exhibit starting September 30 at NCCC Mall Davao Supermarket Activity Area. NCCC Superarket has been in collaboration with MJ Global Corporation, the authorized distributor of Korean products in the Philippines for more than two years now to bring Korean culinary delights to Dabawenyos.
The event will be a perfect time for Dabawenyos to enjoy the Korean products that we only see in the movies or TV series. Score anything Korean such as seasoning, flavorful sauces, healthy beverages, even their insanely popular noodles not to mention the popular Melona Ice Cream and other assorted frozen novelties.
The K-Food Exhibit will let you experience the style and grace of Korean Cuisine through their food staples through samplings, cooking demonstrations and freebies! Take a lot of selfies as you try out Korean-inspired outfits while participating at the games patterned after Korean culture.
Shoppers can take home Korean products to try out with the whole family from the Special Sale until October 2.  There will be 10% savings on Korean noodles during the K-Food Exhibit sale as well.
 See you all there! Kamsahamnida!