Premier Sports, SPOTV and SPOTV2, TAP Movies, TAPAction Flix, and DreamWorks available on SKYcable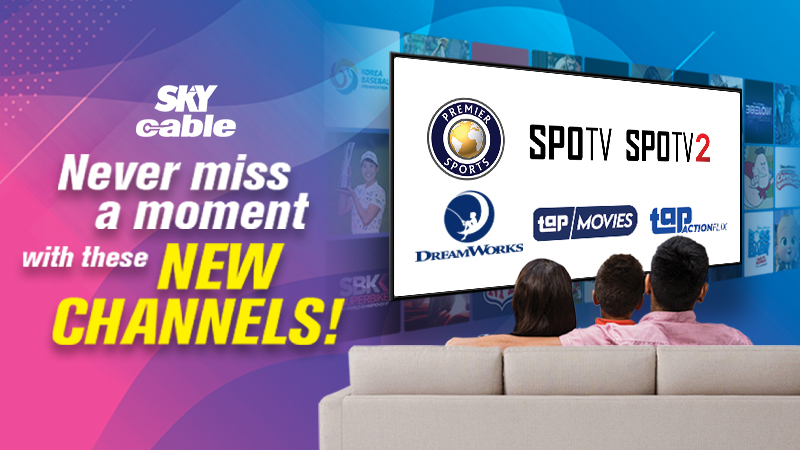 SKYcable continues to provide all-around entertainment for subscribers nationwide with the freshest and hottest shows today as it brings in more top-rating channels to its line-up, including Premier Sports, SPOTV and SPOTV2, TAP Movies, TAPAction Flix, and DreamWorks on its new HD Plans.
Die-hard Pinoy sports fans can have a front-row seat to the most exciting competitive sporting events with the addition of Korea's leading sports channels SPOTV and SPOTV2, and the home of the world's big-time tournaments, Premier Sports, on its programming roster.
Catch all the action in the UFC, Formula 1, NFL, WTA Tour, UEFA Champions and Europa League, and AEW Dynamite on Premier Sports, and don't miss all the happenings in tennis' Wimbledon and US Open, golf's British Open, Women's Open, and The Senior Open, motorsports' Moto GP and World SBK, Badminton World Federation, and World Table Tennis on SPOTV and SPOTV2.
Moviegoers at home are in for a treat as SKYcable also brings more sought-after films on TV with the new TAP Movies and TAPAction Flix channels. Watch Hollywood's best flicks, including "Mamma Mia Here We Go Again," "Pitch Perfect 3," "Vice," and more on TAP Movies, while films of beloved action icons, from James Bond, Sylvester Stallone, to Arnold Schwarzenegger, come together on TAPAction Flix.
And, bond with your kids while watching DreamWorks – the 24-hour channel dedicated to kids and family entertainment. With award-winning, original animated television series featuring your favorite DreamWorks characters, including "Kung Fu Panda: The Paws of Destiny", "The Boss Baby: Back in Business", "Dragons: Race to the Edge", "Trolls: The Beat Goes On!", and much more.
Elevate your all-around entertainment with these new channels in crisp high-definition, now available on selected SKYcable plans.
Not yet on SKYcable? Subscribe now to any SKYcable or SKY Fiber with HD Cable TV plans for as low as P500 per month! Just visit mysky.com.ph or text SKY <space> APPLY <space> <NAME> to 23662 free on all networks. For other updates on SKYcable's programming and other cable plans, follow SKY on Facebook (fb.com/myskyupdates), Twitter, and Instagram (@myskyupdates)