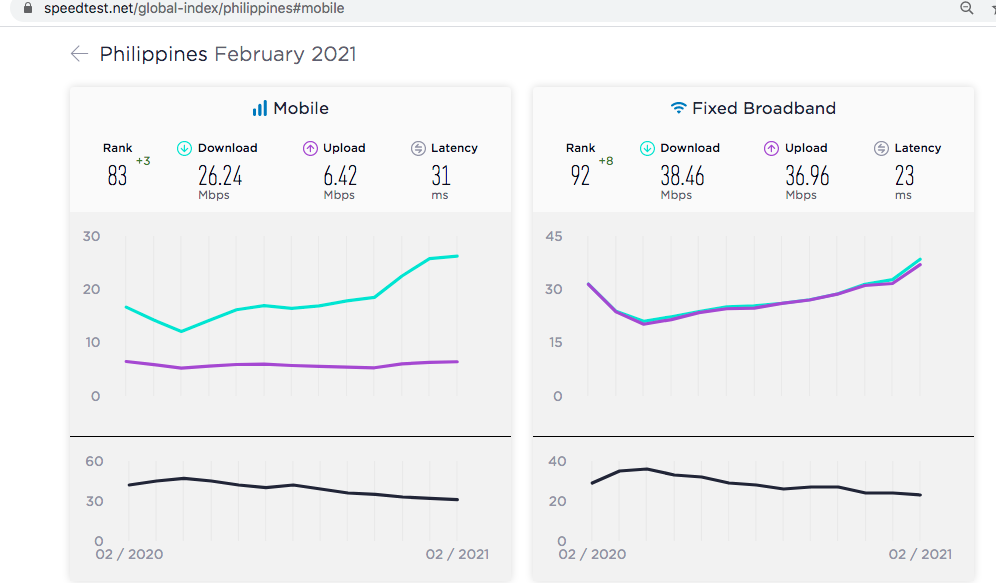 Now for some great news~~the Philippines continues to post significant improvements in both mobile and fixed download speeds, now ranked among the top 100 globally according to Ookla's Speedtest® Global Index* February 2021 data.
The Philippines currently ranked 83rd in the world on mobile, climbing 3 spots with an average mobile download speed of 26.24 Mbps vs January's 25.77 Mbps. This is the 7th straight month which showed improved average mobile download speeds.
For fixed, the Philippines rose 8 spots to 92nd place with an average fixed download speed of 38.46 Mbps vs last month's 32.73 Mbps — reflecting 10 straight months of improvement.
The country has been notably seeing improvements due to the industry's steady investments in network upgrades and infrastructure development.
Globe continues to undergo network upgrades to utilize more advanced technology and improve overall data experience for its customers. Around 90 percent of Globe's cell towers are now equipped with 4G LTE technology.
"Our persistence in boosting our network through rigorous builds are being felt by our customers, through service and internet improvements. The rise in rankings on both mobile and fixed download speeds goes to show that the country is making significant headway towards meeting first world network standards," said Ernest L. Cu, Globe's President and Chief Executive Officer.
Globe strongly supports the United Nations Sustainable Development Goals, particularly UN SDG No. 9 which highlights the roles of infrastructure and innovation as crucial drivers of economic growth and development. Globe is committed to upholding the 10 United Nations Global Compact principles and 10 UN SDGs.