Procter & Gamble Philippines, through Safeguard, takes Global Handwashing Day to the next level.
"Itaas ang iyong mga kamay!!" (Raise your hands)
The world celebrated the 8th Global Handwashing Day (GHD)  last OCTOBER 15. It was the brainchild of  the Global Private-Public Partnership for Handwashing in 2008 to increase awareness of the importance of handwashing with soap. Here in the Philippines, Procter and Gamble (P&G), through its flagship soap brand Safeguard, is not only one of the founding members of this partnership, but also continues to be a key advocate of GHD. This year was no different as Safeguard Philippines brought this annual celebration simultaneously to three major cities: Manila, Cebu and Davao.
Here in Davao, me and my other blogger friends became part of the celebration as we trooped to Buhangin Central Elementary School to join the kids, parents and teachers .
This year's local theme "Linis Lusog sa Global Handwashing Day" focused on proper handwashing with soap as a cost-effective solution to prevent diseases, including diarrhea and pneumonia. According to World Health Organization, approximately 13 children die because of diarrhea every day, accounting to almost 5,000 deaths annually. National statistics also indicate that an estimated 37 children under the age of five die from pneumonia per day. Diarrhea and pneumonia continue to be the top causes of child mortality in the Philippines. This year marks the deadline of the United Nations Millennium Development Goals (MDGs), the fourth of which is to reduce child mortality.
While the country has made progress in MDG4 over the past few years, the interventions that reduce preventable deaths like diarrhea and pneumonia will continue to be important beyond 2015. Many Filipinos are still not aware that disease-causing germs can be found in seemingly unlikely places. A study conducted by P&G showed that disease-causing germs may be found on everyday items like mobile phones, ATMs, kitchen sinks, water bottle and many more.
In three key cities nationwide, Safeguard's celebration of GHD aimed to educate students and parents alike about the surprising, everyday sources of germs. Through a fun scavenger hunt for germs, students searched through different locations like the school, the home and the playground for germs to collect. Thinking that they found the germs, they were surprised to discover that there was more than meets the eye. A UV light revealed that an invisible lotion was unknowingly applied on their skin while they searched through the locations. This lotion simulated the invisible, disease-causing germs from everyday items.
While disease-causing germs are everywhere, these are easy to remove with proper hygiene and frequent washing with soap. Everyone can prevent diseases and improve health by washing with soap. A review of multiple studies that handwashing with soap cuts the incidence of diarrhea by nearly half. Furthermore, a study in Pakistan found that the same habit also reduced the number of pneumonia-related infections by more than half. Clean hands will help prevent transmission of disease from one person to the next. Clean hands will help keep families, classrooms, schools and communities healthy.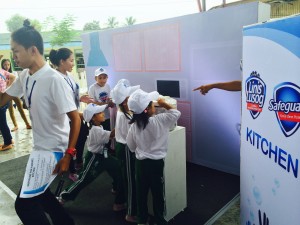 This advocacy for health is not possible without the support from many partners. P&G continues to work closely with UNICEF, the Department of Education and the Department of Health to promote health and hygiene in communities. In partnership with these key institutions, P&G has built handwashing facilities and implemented hygiene education programs in public schools nationwide. Safeguard also collaborates with various organizations to help promote handwashing with soap, most recently among 8,000 school children in Tacloban.
For close to 50 years in the Philippines, Safeguard continues to be a champion of family health through its promise of superior protection against disease-causing germs. Its improved Triple Shield technology with patented Zinc Pyrithione (ZPT) delivers this promise: New Safeguard not only provides protection against more types of germs, but also helps reduce the regrowth in between washes.
With its trusted technology getting even better, Safeguard will also take its advocacy for health to the next level. "Handwashing with soap is the most cost-effective way to save lives. Safeguard is committed to promote health and hygiene among Filipino families – particularly in communities that need help the most. Global Handwashing Day is just one of the ways that we bring this commitment to life," says Shankar Viswanathan, General Manager of Procter & Gamble Philippines.
P&G, through Safeguard, and UNICEF aims to further improve health by implementing the Water, Sanitation and Hygiene (WASH) program in more schools. This will bring hygiene education and facilities to rural areas where the incidence of diseases and the child mortality rate are relatively higher.
"Global Handwashing Day is celebrated annually to advocate for greater attention and investment in programmes that promote and support the life-saving practice of handwashing with soap. We all have a hand in keeping our families, schools and communities healthy – if only through the simple habit of washing with soap frequently," shares UNICEF WASH Chief Louise Maule.
Health starts with proper hygiene. On Global Handwashing Day and beyond, raise your hand for hygiene. Protect your family from disease-causing germs with Safeguard.