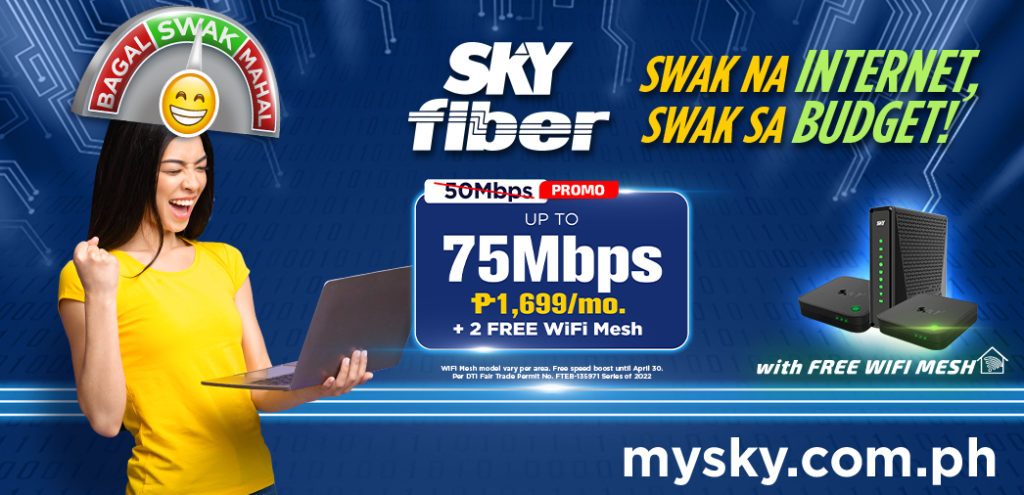 SKY Fiber is launching its new set of Super Speed Plans on February 1 to deliver on consumers' need for inexpensive plans with reliable internet connection.
"While we all continue to adapt to the new normal, we cannot deny the significance of having a good quality internet connection at home. As an internet service provider, SKY Fiber wants quality internet connection to be accessible to more Filipinos. With our new Super Speed Plans, we have enhanced the speeds of our best value plans bundled with the WiFi Mesh without compromising its affordability," James Dumlao, SKY's head of Consumer Products Group, said.
SKY Fiber's new plans offer Unlimited Broadband Plans with speeds of up to 50Mbps (P1,699/month), 100Mbps (P2,299/month), and 150Mbps (P2,799/month), compared to its previous offering of 40Mbps, 80Mbps, and 120Mbps. The Unli Broadband + HD Cable TV Plans also provide higher speeds of up to 80Mbps (P2,499/month) and 150Mbps (P2,999/month) with more cable channels.
These Super Speed Plans provide subscribers the right balance in terms of speed, strong connectivity, and value for money. Alan Supnet, SKY's head of Broadband Products, said they looked into the sentiments of many Filipino families when they were developing SKY Fiber's new set of plans.
"Families with a limited budget tend to get low-cost plans or wireless prepaid internet, but risk experiencing slow and spotty connection. On the other hand, ultra-high speed plans that do offer reliable connection come with very high costs, which not a lot of people can afford. SKY Fiber offers that sweet spot that's 'swak' for their needs and budget," he explained.
The new plans also come with free WiFi Mesh units (number of units included depend on the chosen plan) to evenly distribute the internet signal around the house. To date, SKY Fiber remains to be the only internet service provider in the country that readily bundles the WiFi Mesh for free with its plans.
"We made sure to keep the WiFi Mesh included for free in all our broadband plans because we've seen how it enhances the experience of our subscribers in eliminating dead zones at home. Most frustrations related to the internet are rooted in poor signal around the home, and the WiFi Mesh is our solution. Anywhere in the house, our subscribers get seamless WiFi coverage without any additional cost," Supnet said.
For users looking for a reliable plan to cater to their basic internet needs, SKY Fiber still offers its 20Mbps Plan maintained at the affordable price of P999 per month. An Unli Broadband Plan of up to 30 Mbps (P1,299/month) and Unli Broadband + HD Cable TV Plan of up to 40Mbps (P1,699/month) are also new offerings that won't break the bank.
As a treat for those who subscribe to the new Super Speed Plans within February 1 to April 30, SKY Fiber is offering free and lowered installation fees. Select plans also get a free speed boost until April 30. The boosted speed will depend on the chosen plan. For example, subscribers of the 50Mbps Plan can experience up to 75Mbps until the end of April at no additional cost.
Aside from having new plans, SKY Fiber has made its highest speed plan of up to 200Mbps (P3,499/month) available in all SKY Fiber serviceable areas, which are Metro Manila, Bulacan, Rizal, Cavite, Laguna, Batangas, Baguio, Cebu, Dumaguete, Bacolod, Iloilo, Davao, GenSan, and Zamboanga.
Visit mysky.com.ph/skyfiber to apply for these new fiber-fast plans. Existing SKY Fiber subscribers can continue to enjoy their current plans or choose to switch to the new plans.