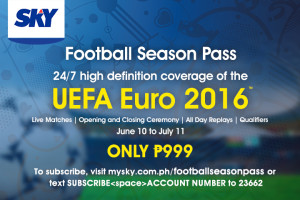 Catch the world's most intense football action in 2016 as SKY Football Season Pass HD features the 15th UEFA (Union of European Football Associations) EURO 2016 this June and July.
Starting June 10, avid football fans can score a coveted one month season pass to catch all the action at home and round-the-clock from 24 European teams in the UEFA EURO 2016.
France hosts the tournament for the third time and this years' edition of the quadrennial tournament include to-watch-out for teams such as defending champion Spain, three-time champ Germany, powerhouses England, Portugal, Italy, and France. This year, the usual 16-team format expands to 24 and will see the debuts of teams from Albania, Iceland, Northern Ireland, Slovakia, and Wales.
Two-time champion France opens the UEFA EURO 2016 in a match against Romania.
Be sure to watch the thrilling matches all in high-definition on SKYcable from June 11 to July 11. SKYbroadband subscribers and those who availed of the pay-per-view will get to watch the UEFA EURO 2016 on other gadgets anytime, anywhere via SKY On Demand.
To subscribe to the SKY Football Season Pass HD, text SUBSCRIBE <space> 9-digit account number to 23662. The HD viewing is priced at P999 for a one month season pass. For instant and for more details, visit mysky.com.ph/footballseasonpass.