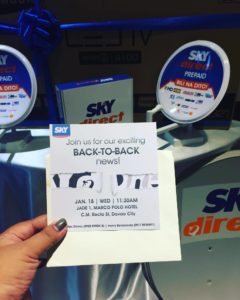 As an answer to the needs of its internet and tech-savvy subscribers,  SKY formally launched its newest products: One Sky and SKYdirect in Davao city last week.  It is the latest location in the country to experience the superior brand of entertainment, as Davao residents can now enjoy an all-in-one subscription plan that includes high-speed internet, HD cable and video-on demand services.
Subscribers can choose between Premium or Lite plans. One SKY Premium plans (start at Php1599/month) allows high-speed internet of 8 Mbps to 64 Mbps;  unlimited data allowance from SKYbroadband,  premium HD cable TV from SKYcable , and cable shows on the go with SKYmobi. One SKYlite Plans (start at Php699/month), offer fast internet of 4Mbps to 8Mbps with consumable data allowance of at least 20GB plus HD cable TV and a provision to add mobile internet.
SKYcable channels include top-rating channels such as ABS CBN HD, ANC HD, HBO, HD, RTL CBS Entertainment HD, Cartoon Network HD and Disney HD.
Subscribers may opt to add SKY's mobile internet service in their plans. This will give them easy access to cable TV shows anywhere and anytime through SKY on Demand, the online platform for live and on-demand video streaming of cable shows and movies.
Moreover, subscribers who reside in areas without wired cable facility may avail of SKYdirect, SKY's direct-to-home pay TV service. SKYdirect also features a mix of foreign and local cable channels. Its prepaid plans begin at Php99, and postpaid plans start at Php250 per month. For more information, visit their website at www.mysky.com.ph