Now accessible in more areas in Luzon and Mindanao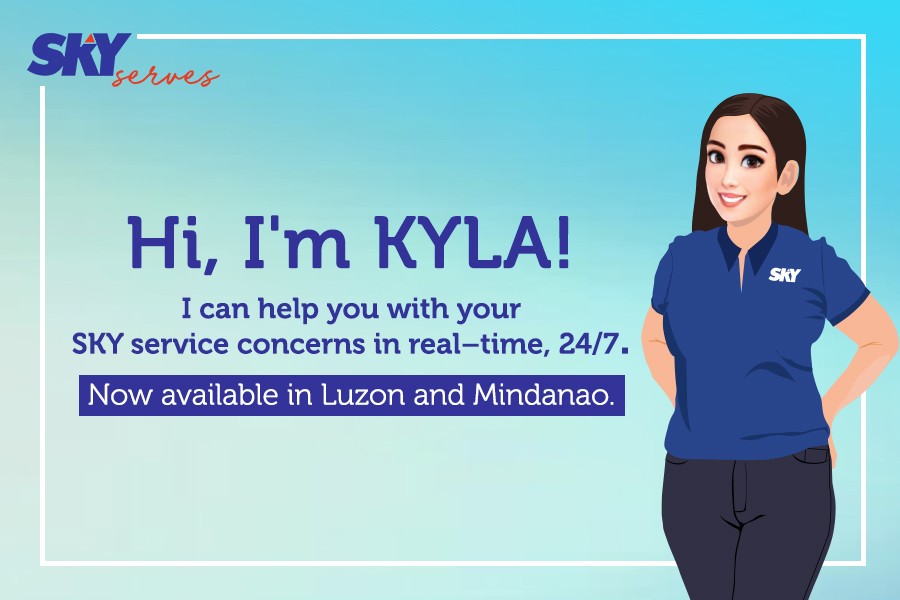 SKY continues its commitment to provide top-notch and hassle-free service to its valued subscribers by making it more convenient for them to raise their concern with just a few clicks through their 24/7 customer support KYLA.   
By expanding KYLA's accessibility to more parts of Luzon (Baguio, Batac, Dagupan, Laoag, Urdaneta, Bulacan, Batangas) and in Mindanao (Davao, General Santos, Zamboanga) starting August 15, SKY ensures that SKY subscribers from different parts of the country can experience the same fast and convenient customer service.
Since its launch in 2021, more SKY subscribers expressed their satisfaction with KYLA in addressing their simplest to more complex matters when it comes to their cable and internet service. Here are some common concerns that KYLA can help manage to assist each subscriber in real-time:
Matters on monthly billings and payment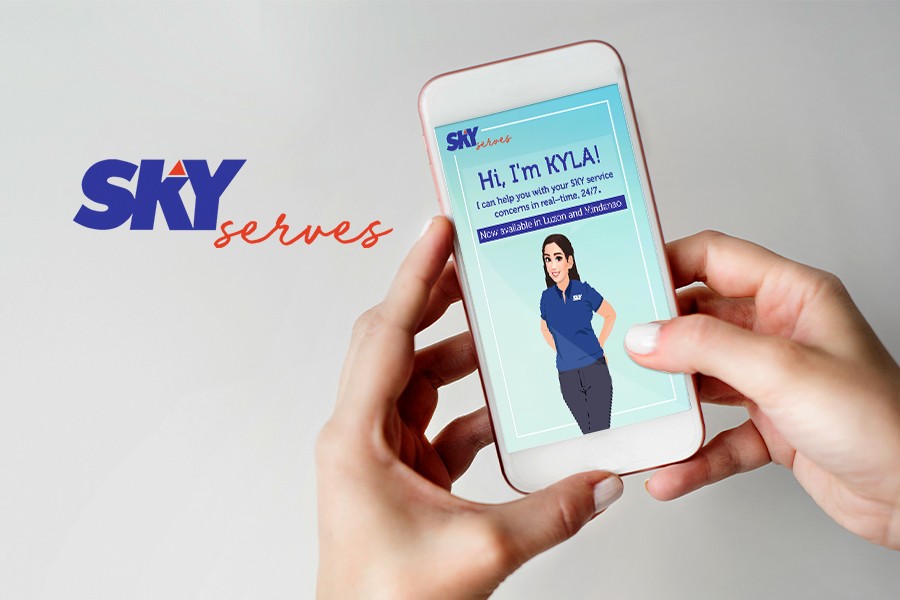 Got questions with your SKY bill? Do you plan on enrolling in digital payment methods for ease of transactions?Want to know the status of your monthly bill and so on?
KYLA's got you covered on matters regarding your SKY billing and monthly payment. With KYLA, you can easily access your monthly statement and address any concerns from inquiries, status updates, information on SKY's payment channels to transferring your billing details in an instant.
For more complicated billing matters, KYLA can also endorse you right away to a live agent to discuss other queries. A subscriber shared "I got the answer that I needed to check my account immediately. Good thing that my KYLA inquiry was answered quickly."
Service concerns and real-time advisories
Got a technical concern with your cable TV or internet connection? KYLA is here to help solve the issue to restore services as soon as possible. KYLA can also notify SKY users of the latest advisories in real-time to keep them updated on SKY's maintenance efforts, among others.
As shared by another SKY subscriber "Salamat kasi meron kayong ganitong customer service. Hindi ko na kailangan tumawag sa landline at mag hintay nang matagal para malaman kung may ongoing maintenance sa area namin."
Subscribers can also do their part in reporting anomalous incidents like cable cutting affecting their services by submitting their reports directly to KYLA.
Instant troubleshooting and account reconnection
For trouble shooting and reconnection confirmation, KYLA's updated feature now accepts video and photo attachments so that subscribers can directly send proofs of payment for account reconnection or a video of their modem for internet connection diagnostics and troubleshooting witha live agent.
"KYLA is interactive and it guides you on what you need to do, for complicated matters it becomes personalized as soon as an agent takes over the conversation, everything is easy too," a happy SKY subscriber commented.
These are among the concerns that SKY's KYLA can help you with. Plus, it's even easier to raise concerns through KYLA as all the subscriber needs to do is type a simple query in English to start a conversation. KYLA will be able to recognize the concern and direct the subscriber to the proper resources or journey to address the issue. To ensure a seamless conversation, subscribers are advised to keep their account number ready for transactions that will require it.
Access KYLA on Viber via mysky.com.ph/kylaofsky, on Facebook Messenger through m.me/myskyupdates, or on any web browser via mysky.com.ph/message-us. For more info on KYLA's features and functionalities, please refer to mysky.com.ph/aboutkyla.