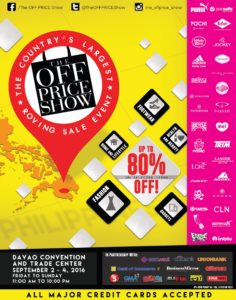 Hello Davao fashionistas!!  Get ready as the Country's Largest Roving Sale Event is back in the city on its 4th year at the Davao Convention and Trade Center on September 2-4!
The Off Price Show is the first roving sale concept in the country that features top lifestyle brands from around the globe. These top brands include White Rain, Pochi, Vonzipper, Pacsafe, Adidas Bodycare, H&M, Melissa, PUMA, Palladium, Victorinox, Jockey, Lee Cooper, Tommy Hilfiger Eyewear, Accel, MEL Shoes and a whole lot more.
In this event which presents the world's most premium lifestyle names,  a Banchetto comprised of Davao City's best and well-known restaurants and fast eats will also be featured to make your tummies happy. It will be at the outdoor area of the convention center.
The Off Price Show will be open from 11:00 AM up until 10:00 PM. All major credit cards will be accepted for purchases made during the 3-day expo sale.
Get the chance to shop for free by joining the Instagram contest just by taking photos with your friends!
Check out their latest updates here : https://www.facebook.com/TheOFFPRICEShow