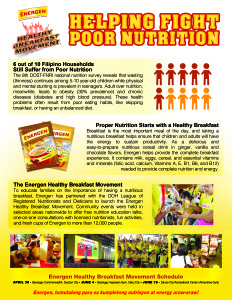 The 8th national nutrition survey conducted by the Department of Science and Technology-Food and Nutrition Research Institute (DOST-FNRI) reveals that 6 out of 10 Filipino households suffer from poor nutrition. Under nutrition hinders mental and physical development while over nutrition leads to obesity and chronic diseases such as diabetes and high blood pressure.
In Davao region, the results of a 2011 DOST-FNRI survey indicate that 20% of children aged 0-5 years old, and 33% of school-age children are underweight for their age. The survey was conducted in Davao Oriental, Davao del Norte, Davao del Sur, and Compostela Valley.
The same survey reveals that stunting, being underheight-for-age, is high among 0-5 year-old and school-age children. The physical condition is an indicator of chronic malnutrition.
These nutrition problems often result from poor eating habits, like skipping meals such as breakfast, or having an unbalanced diet, and can lead to poor school and work performance, and diseases.
"Eating a healthy breakfast daily is a great way to address underweight and underheight problems, especially among kids. Studies show that a nutritious breakfast helps provide children with energy for the entire day. It also helps contribute to the development of mental and physical abilities," said Greg Anonas, Energen marketing manager.
Healthy breakfast for proper nutrition
Energen aims to educate and encourage families to appreciate the importance of a healthy and nutritious breakfast to start their day right. A delicious and easy-to-prepare nutritious cereal drink, Energen contains milk, eggs, cereal,
essential vitamins and minerals such as folic acid, calcium, and Vitamins A, E, B1, B6, and B12 needed to provide complete nutrition and energy.
Healthy Breakfast Movement
Energen, in partnership with the Department of Health League of Registered Nutritionists and Dieticians, has just concluded its Energen Healthy Breakfast Movement, encouraging more than 12,000 Filipinos in more than 150 communities in Quezon City, Cebu City and Davao City, to make Energen a part of their breakfast habit. 
The Energen Healthy Breakfast Movement includes feeding programs and activities where families enjoyed free one-on-one consultations with licensed nutritionists, nutrition education talks, and fresh cups of Energen.
Energen is available in ginger, vanilla and chocolate flavors, at sari-sari stores, convenience stores or supermarkets nationwide, for only P6.00 SRP.