Bringing its latest technologies to the Philippine market, HONOR empowers smart device users with human-centric innovations.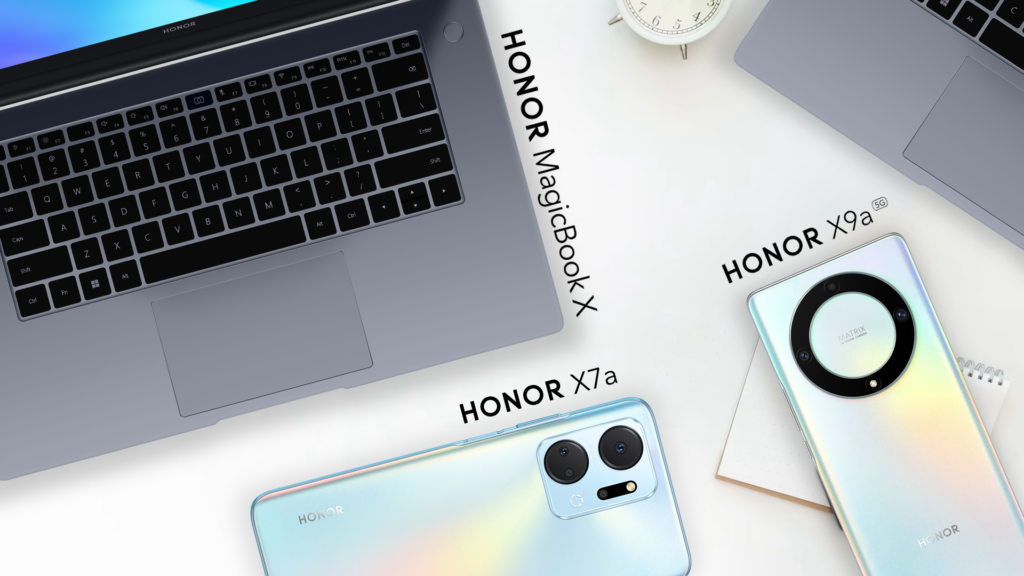 The year has just begun yet HONOR Philippines already introduced not just one, but three smart devices in the market already! All hailing from HONOR's industry-setting X Series, the HONOR X9a 5G, HONOR X7a, and HONOR MagicBook X laptops were made available to the public recently.
"We wanted to start the year really strong and we are delighted with the fact that we are on track. Three devices since the start of the year and we're just getting started. HONOR Philippines takes pride in our newest devices that cater to consumers' ever-changing needs and requirements," said Stephen Cheng, HONOR Philippines Vice President.
HONOR X9a 5G
Making a massive buzz online, the new HONOR X9a 5G sports a 120Hz Premium OLED Curved Display allowing users to enjoy a large screen of 6.67-inch with an impressive screen-to-body ratio of 93%. An ultra-large 5100mAh battery in a compact body awaits you too making HONOR X9a 5G the thinnest and lightest smartphone to feature a battery larger than 5000mAh. This allows this viral phone to support up to 2 days of daily use for a truly uninterrupted user experience. With just 30 minutes of charging, the HONOR X9a 5G delivers 12.5 hours of video streaming, sparing users from having to worry about their battery.
This viral phone is available in Titanium Silver and Emerald Green for only Php 16,990!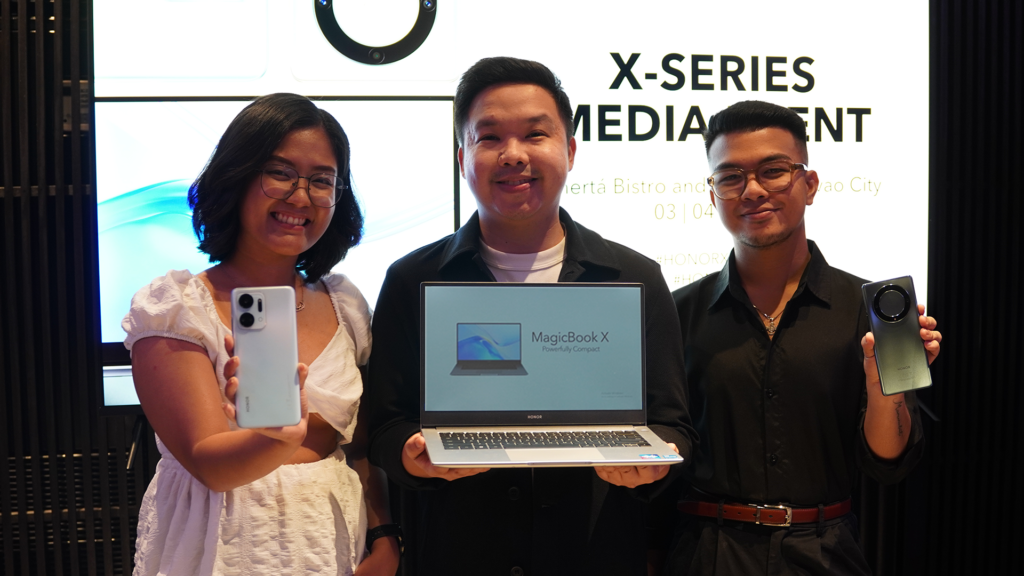 HONOR Philippines Brand and PR team. Raven Bagdoc, Brand Marketing Officer; Pao Oga, PR Manager; Denis Santos, Senior PR Officer.
HONOR X7a Specs
HONOR X7a strikes the right balance between mobility and battery life, packing in a super powerful battery that could last for 3 days, a TÜV Rheinland certified eye-protection FullView Screen, and a quad camera module within its 8.27mm slim body.
All of these stunning features for an affordable of Php7,990 which makes it currently the most price-competitive 6000mAh battery phone in its price range. HONOR X7a is available in Midnight Black, Titanium Silver, and Oceanic Blue.
HONOR MagicBook X 14 and MagicBook X 15
Powered by 11th Gen Intel® Core™ processor, the HONOR MagicBook X 14 and HONOR MagicBook X 15 deliver an upgraded performance, enabling users to run multiple tasks at the same time at incredible speeds, offering greater productivity. Ensuring an uninterrupted experience while performing, the HONOR MagicBook X 14 and HONOR MagicBook X 15 come with an advanced Supersized Cooling Fan, enabling efficient heat dissipation to maintain a manageable temperature even during long periods of use. Along with a massive 56Wh battery, users can enjoy up to 9.9 hours of local 1080p video playback or 9.2 hours of webpage browsing on a single full charge.
Both available in stunning Space Gray and Mystic Silver, you can get the HONOR MagicBook X 14 and X 15 at Php 29,990 and Php 37,990 respectively.
Availability
HONOR X9a 5G, HONOR X7a, and HONOR MagicBook X laptops along with its wide array of smart devices at any leading Davao kiosks: Rulls Inline Gmall, Mikrocell Gmall, Davao Premium, CYBER_GADGET Gmall, Microcell SM Ecoland, Ytelecom SM Lanang Premier, Ytelecom SM Ecoland, Ytelecom Gmall, Mobile LoadHub, Mikrocell Gmall Toril, Herrera Brother SM Ecoland, Rulls Inline SM Ecoland, Stormtech SM Ecoldand, Audionet SM Ecoland, Techsynergy Gmall Davao, Audionet Gaisano Grand Calinan, Rulls Inline Gaisano Grand Calinan.
You can also get it online through HONOR's official stores at Lazada (http://bit.ly/3J2eJXP), Shopee (http://bit.ly/3J1Zv5n), and Tiktok Shop (http://bit.ly/3IMaizo).
For more information and announcements, tune it at HONOR's website www.hihonor.com or social media platforms: Facebook (Facebook.com/HonorPhilippines), Instagram (Instagram.com/honorphilippines/) and TikTok: (Tiktok.com/@honorphilippines).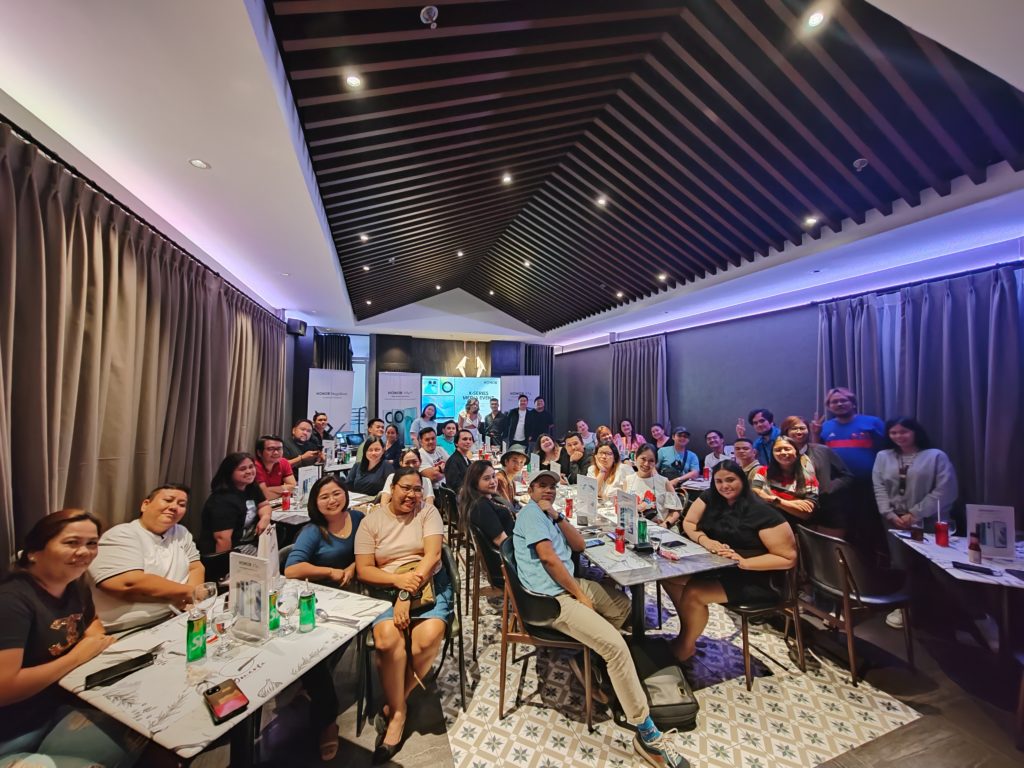 Davao Media at Honor X- Series event
****
About HONOR
HONOR is a leading global provider of smart devices. It is dedicated to becoming a global iconic technology brand and creating a new intelligent world for everyone through its powerful products and services. With an unwavering focus on R&D, it is committed to developing technology that empowers people around the globe to go beyond, giving them the freedom to achieve and do more. Offering a range of high-quality smartphones, tablets, laptops and wearables to suit every budget, HONOR's portfolio of innovative, premium and reliable products enable people to become a better version of themselves.