The Search for the Happiest Pinoy 2015, a nationwide campaign of Cebuana Lhuillier is now currently accepting nominations. This was announced when I attended the Davao roadshow earlier this month.
Big prizes are at stake for the winners which will be announced this June. The Happiest Pinoy grand winner gets 1 Million pesos in cash while nine (9) runners-up will get ₱50,000 each. There will also be 2 Special Awards given (chosen from the top 10 finalists):  the Happiest Student award and the Happiest Overseas Filipino Worker (OFW) award. They will receive 25,000 pesos each.
The Search for the Happiest Pinoy looks for these qualities in choosing for the winners/finalists:
Positive outlook in life
Proven ability to rise above life's challenges
Positive impact in the lives of others
This contest aims to remind us the positive values of optimism, resilience, and hope in us Filipinos despite the various life challenges that we encounter.
It is heart-warming to know that Cebuana Lhuillier, a giant in the Philippine finance industry, would want to focus the positive things that come with obtaining quality and affordable microfinancial security, peace of mind, and ultimately, happiness.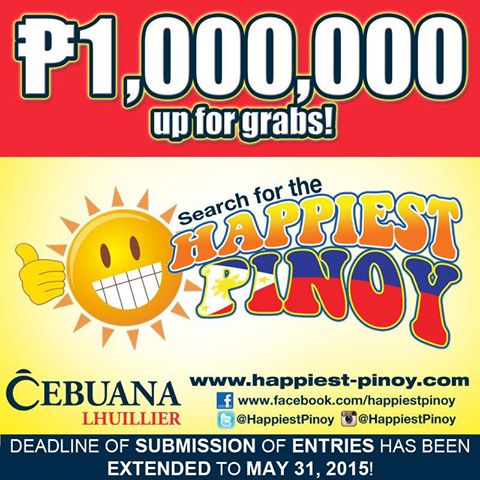 The Search for Happiest Pinoy 2015
If you know of someone you think is qualified, here are the details you will need:
Nomination to the Search
Who can be nominated: Any Filipino of legal age, good moral character, and residing in the Philippines.
Who can nominate: Any Filipino of legal age, group, or organization.
Deadline: Nominations can be submitted  until May 31, 2015.
Submission of Entries
You may get the nomination form by:
-Downloading the nomination form from the Happiest Pinoy Website or through Happiest Pinoy Facebook Page
-or by getting the nomination forms in any of Cebuana Lhuillier's more than 1,700 branches nationwide. March 31, 2015.
To submit your nominations:
Mail the accomplished form together with the supporting documents to:
SEARCH FOR THE HAPPIEST PINOY SECRETARIAT
PJ Lhuillier Group of Companies Inc.
2/f Annex 2, PJL Corporate Centre,
1782 N. Garcia cor.Candelaria Sts.,Makati City 1209
Send the accomplished nomination form (scanned copy) together with the supporting documents (scanned copies) to happiest-pinoy@pjlhuillier.com