Mothers, be there when it happens!
Mommies. Mothers. Moms. Mama. Inay. If you are one and if you're here in Davao City on May 12, leave your worries and concerns behind for a day and take an exciting break with the rest of the supermoms to attend MOMMAPALOOZA at Fuente de Villa Abrille Clubhouse  located at Matina, Davao City. (along Tulip Drive near Buffet Palace restaurant)
A lot of fun and exciting activities for mothers are in store for this whole-day event, a first of its kind in the Philippines. The Color Run  is the highlight of this action-packed day. It is a mom and child tandem to run 300 and 600 meters within the event site. Check out the guide below for the mechanics.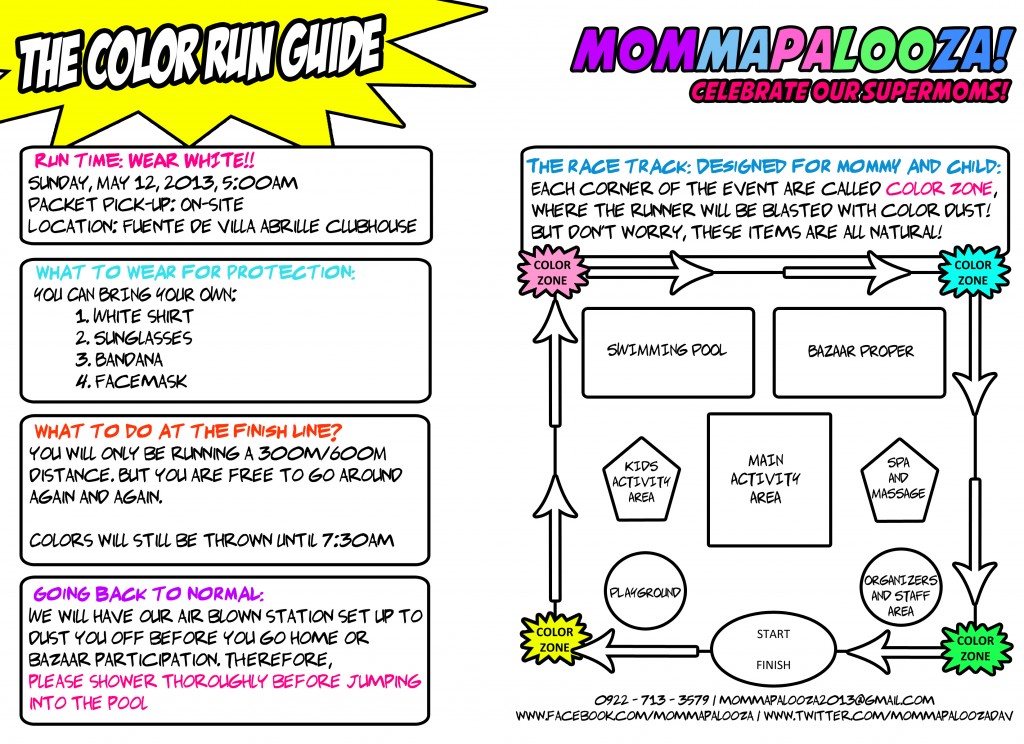 There will also be a number of booths of food and goodies for everyone in the family to enjoy. Moms will be treated like queens as there will be spa and relaxation both (facial masks, mani and pedi, massage, the works!!) specially designed for mothers who need extra pampering for this special day. And while mom is busy going around shopping and checking for good finds, she can let her children enjoy  art and crafts, bubble shows, film showing and other  kiddie activities prepared for them.
For those who love to move and dance, there will be  Momba and Zumba, too! Momba is a new kind of "dancercise" introduced for  moms and babies. And who says your house help or yaya will be left at home? They will surely learn a lot to enhance their housekeeping skills if they join Yaya Academy.
That's not it! There will be a chance to win in a raffle using the hashtag #mommapalooza2013 in Twitter.  Lots of prizes to be given away, so register to join now!
You can sign up with these offices and establishments:
The Mommapalooza event is made possible by Carve together with Lifecasting Philippines with a goal to raise financial support for
Ezra Renewal Ministries
. Please feel free to visit Mommapalooza's Facebook page for  updates here: https://www.facebook.com/Mommapalooza