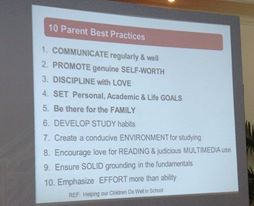 Financial planning is not only for the businessmen and the rich, it is also for the average Filipino breadwinner who works hard to make ends meet and reach the family's dreams. In line with its mission of empowering Filipinos to achieve financial security and prosperity, Philam Life, the country's premier life insurance provider, seeks to debunk the Filipino's deflection towards financial planning through a financial literacy campaign that involves a nationwide school tour, dubbed "Family talk".
In partnership with Love Institute- a pioneering company in the Philippines that promotes good family relationships, the school tour teaches parents about responsible parenting and financial planning, urging them to think seriously about how they raise their children and what steps they are taking to secure their family's future.
Parenting consultant and Love Institute co-founder Maribel Dionisio talks about the ABCs of parenting which include Attention-Giving, Building Self- Worth, Communicating regularly and Disciplining with love, Enhancing the marital relationship and being Financially responsible. To emphasize the need for financial planning, she asks parents to list down their financial goals in a timetable and the budget they need for each goal.
To help parents meet their financial goals, Philam Life shares six basic steps to follow:
1) Set your financial goals
2) Know your net worth
3) Stay out of unnecessary debt
4) Save before you spend
5) Make your money work for you and;
5) Prepare for the unexpected
"Parents need to balance their family relationships and their finances. If they don't plan well for their financial need, it becomes a major source of conflict. Financial problems can break a home," Dionisio said.
Philam Life, the Filipino's family planning partner
As a leading life insurance provider in the Philippines, Philam Life offers plans to help parent reach their financial goals and protect their family's future.
Family Provider and Family Secure are unit linked life insurance plans wherein benefits are linked to the returns of one's chosen Philam Asset Management Inc. (PAMI) investment funds.
Family provider is a protection plan that offers life insurance coverage equal to 25 times the yearly payments or even higher. It is conveniently payable in three, five, seven, or ten years, allowing breadwinners to protect their family's future- a lifelong commitment, without them having to worry about lifetime payments.
Family secure is a high value insurance plan that can be converted into a retirement fund as the breadwinner reaches the end of his critical working days and the start of his golden years. For as low as Php 44 a day or Php 16,000 a year, the breadwinner's family can receive as much as Php 1.5 Million if anything happens to him. Later, Family Secure allows him to decrease his life insurance coverage so that more of his premium payment can go into building up his savings for retirement.
He can boost his savings through "top-up" payments as low as P 1,000 every year or as much as 5x the yearly payment. With top-ups, the breadwinner can build a bigger savings fund to help him enjoy his retirement.
"Family Talk" goes to Stella Maris Davao and Davao Christian School on September 14 and Ateneo de Davao on October 12.
< this is a press release from the Philam Life>
**************************