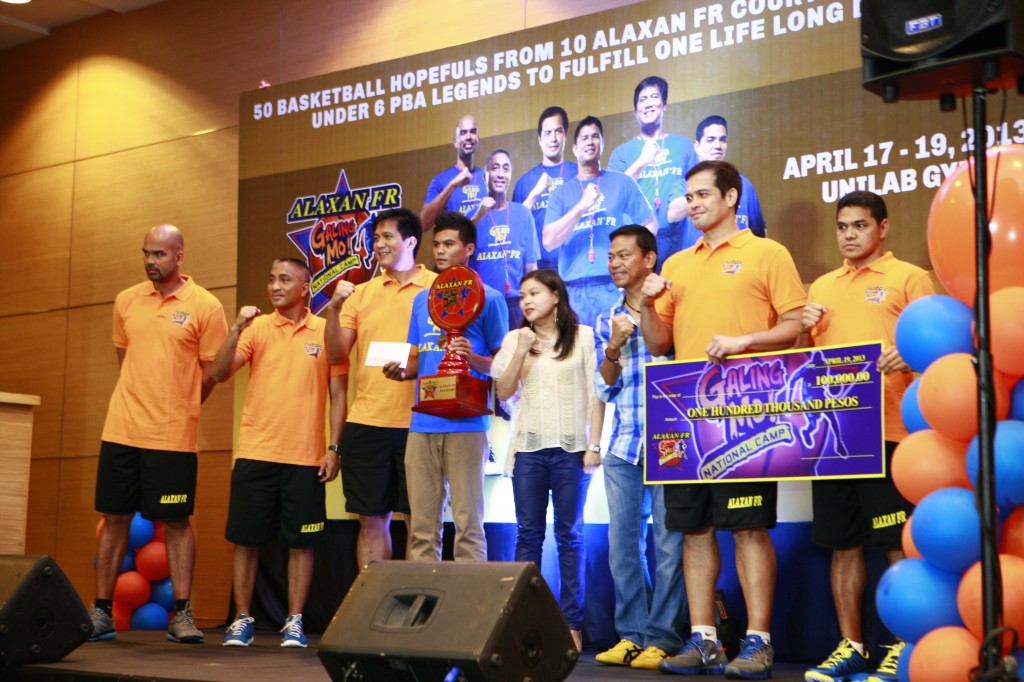 Gabriel Dagandon of Davao, chosen as one of the Top 10 players in the national competition
As an update to my previous post, it is a great news to know that two young and aspiring cagers from Davao, Gabriel Dagandon and Miguel Plata shone from among 50 hopefuls after dazzling the judges during the Alaxan FR Galing Mo Camp held at the Unilab gymnasium in Mandaluyong City, Metro Manila.
Proudly occupying two out of the ten podium spots were Davao's Gabriel Dagangon and Miguel Plata after the three-day camp culminated in Mandaluyong City, Metro Manila.
Hard work paid off for the group, who each won a P100,000 infrastructure project for their respective barangays, on top of a P20,000 cash incentive (P25,000 for MVP Rhys Flores from Cagayan de Oro City). The other winners are John Ballentes and Tyke Bano of Iloilo; Carl Soreno and Josuel Macarines of Dumaguete;  and Dan Audris Lagbas, Rhodelle Nagac, Michael Kent Salado, and Rhys Jefferson Flores (MVP) of Cagayan De Oro. They  won among the 40 other national participants in the three-day basketball camp with their admirable display of hard work and skills.Their stellar performance got the nod of the camp directors, led by no less than basketball legends Alvin Patrimonio, Jerry Codiñera, Benjie Paras, Jojo Lastimosa, Johnny Abarrientos, and Ronnie Magsanoc.
A tradition of hard work and dedication
Last year, the same basketball legends inaugurated the Courts of Inspiration, which are volunteer-built basketball courts made by the local volunteers from the partner villages in Iloilo, Bacolod, Dumaguete, Tacloban, and Cebu for the Visayas, and Cagayan de Oro, Iligan, Butuan, Davao, and Saranggani for Mindanao. Their aim was to inspire communities to achieve greatness through hard work, after building a basketball court entirely on their own. The legends themselves even left handprints on special concrete markers within the structure, reminding people of what hard work and dedication can bring to a community that works together for a noble cause.
The same hoop icons returned to the partner communities early this year to continue the advocacy—not to build more sports venues, but to see how hard the youth have worked to improve their basketball skills on the Courts of Inspiration. After conducting basketball clinics, the legends handpicked the best players, who then flew to Manila to represent their communities in the national leg of the Alaxan FR Galing Mo Camp.
The aim, this time, was to reward those who trained hard in the Courts of Inspiration to perfect their basketball skills.
Giving back to the community
After winning the tight competition, the winners are now set to return the favor to the communities that hand-built their hometown basketball courts.
"My friends and I plan to help promote the game of basketball further by improving the basketball courts back in our province," said MVP Rhys Jefferson Flores, who bared his plan to add roofing and proper lighting to existing playing venues.
"What I learned from this experience is something that I will remember from this day forward: always give your 100% not just to improve your character but, more importantly, to help others make their lives better."